Creating a Masterpiece is an incredible resource for art instruction! We received access to six months of the Monthly Plan, and it's not going to be long enough according to my girls. There are six levels if you count the Beginner projects. Each of the beginner projects contains one lesson. Levels one through five have three to seven lessons each, with the average being three to four lessons per project.
Creating a Masterpiece was designed by Sharon Hofer, a master artist. Sharon has over fifteen years of teaching experience that she has poured into each lesson. Her philosophy is that teaching should be simple enough for a child to follow while producing masterpiece quality work. The recommended age varies depending on the project level. Beginner projects are okay for kids as young as four or five. The remaining levels are good for any ages including adults.
There are many different types of art instruction taught in Creating a Masterpiece. These include:
Acrylic Painting
Soft Pastels
Oil Pastels
Sculpture
Watercolor
Block Printing
Ink
Silk Dyeing
Pencil
Bombay Ink
Conte Crayon
Portraiture
Colored Pencil
Copper Tooling
Charcoal
Glass Mosaic
Watercolor Pencils
Gouache
Balsa Carving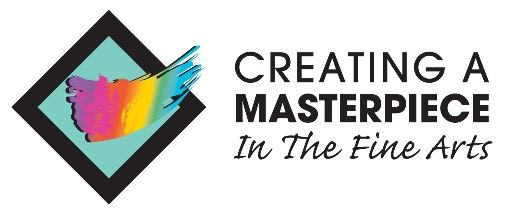 Our Creating A Masterpiece Art Instruction Experience
I was so excited to be a part of this review. Jahnna and Riley love art projects. Jahnna is always drawing in different sketchbooks. Riley likes more hands-on projects requiring manipulatives like clay. I had Riley choose her first project. She decided to start with Level One Lessons in Colored Pencil: Tropical Clown Fish. I figured we would take a week and do the three lessons every other day. Riley had other ideas! She sat down with the materials and drew the entire thing in one sitting.
I forgot to explain that I wanted her to take her time and focus on each lesson individually. Whoops! After the picture was complete Riley was a little disappointed with how hers looked compared to Sharon's. We had a little talk about taking our time and how great artwork is not a race. Once Riley realized the picture wasn't meant to be completed fast, she agreed that trying again might be a good idea.
Jahnna decided on Lessons in Acrylic: Caribbean Lighthouse. Jahnna has used Acrylic paints in paint by number projects. She likes to use it as a medium but has never painted freeform with it. Due to the nature of paints, Jahnna's painting took several days to complete. I bought some of the wrong colors, so her painting doesn't match Sharon's painting exactly. I have to say that Jahnna is quite pleased with her painting even with the differences.
Now that they have each tried projects of their choice I've decided that we will complete a sculpting project next.
My Art Instruction Thoughts
I am pleased with the instruction the girls have gone through to this point. Riley did not care for the video instruction of her first project. I feel that a lot of her frustration came from her impatience to complete the project. The videos have to move at a slower pace so that students can follow along with the instruction and get a feel for what is going on as they are working. Jahnna watched several sections of each video multiple times until she was comfortable moving forward.
The videos are straight forward and put together well. I haven't been able to try any of the projects myself, but I plan on trying the wood burning and the watercolors when I get a chance. While this was not an ideal curriculum for Riley, it has been a fantastic learning opportunity for Jahnna. Riley is in 4th grade but has a lot of attention issues. For kids who need more action and a faster pace, I recommend trying the sample lesson to see if this would be a good fit for you. Adults and students sixth grade and above will learn and improve their skills a lot. I highly recommend trying it out for a month at the very least!
Social Media
You can find Creating A Masterpiece on Facebook.
Click on the banner below to see what the other members of the Homeschool Review Crew had to say about their experience with Creating A Masterpiece.