Algebra for Breakfast allowed our family to review both Grades 3/4 and Grades 5/6 of their program. Each level has 40 lessons with the possibility of more being added in the future. There are some videos that overlap in between the two levels. The lessons cover similar topics but are paced accordingly for the grade level selected. The Algebra For Breakfast program is a math supplement and can be used with most math programs.
Bob Hazen has loved math since he was a young boy. After exploring several careers he finally realized his passion lay in teaching math. As a new teacher, he was surprised to see how unprepared his seventh-grade students were to learn math. They had already learned that math was a chore. Algebra for Breakfast was born out of a desire to share his successful methodology with more students than the one's that were in his classroom.
In an effort to teach more students Bob has videoed some of his classroom lessons. Each of the lessons in Algebra for Breakfast contains at least one video, if not more. Occasionally there are videos specifically for parents. There is some prep work for lessons and the prep work videos are more one on one with Bob demonstrating something at a table. Each lesson has a downloadable and printable pdf that contains a worksheet or an activity.
We were given six months of membership to the program. When you purchase the complete program access you receive
1st Month of membership access to 40+ video lessons
Skip Counting CD
A Set of Math Dice
A set of Math Manipulatives
Printables Worksheets
The manipulatives make up the bulk of the full access cost and are an integral part of the program. You will need manipulatives in order to make this program work for you.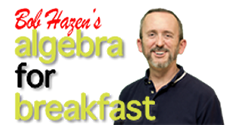 Our Math Supplement Experience
I received access to both levels. I felt like both Jahnna and Riley would benefit from having manipulatives and video instruction. Riley is in 4th grade while Jahnna is finishing up 8th grade. If you have read any of my math reviews you will know that Jahnna struggles with math. I am always looking for new programs to help increase her understanding of math concepts. It was with this in mind that I agreed to check out both levels.
I knew that there would be some prep work involved and that I needed manipulatives to truly make this work. We were able to borrow some manipulatives for this review and I'm working on getting a set for us to use in the future. We received the skip counting songs as digital files and I was able to put them on Riley's mp3 player for her. She had previous experience with skip counting songs so she felt like this was old material for her.
Jahnna was initially excited to use the manipulatives but quickly grew frustrated with the videos. One of the main reasons she prefers homeschooling is that there is not classroom noise to deal with. The videos with other students in them really distracted her. She wished that all of the videos were only of Mr. Hazen. Riley, on the other hand, loved that there were students in the videos. She has missed being in a classroom this year.
Both girls appreciated the explanations of math concepts. Learning tricks like first name, last name made things easier for them. Overall Jahnna has asked not to continue with this particular program while Riley wants to complete level 3/4 and if there is still time left move on to level 5/6.
My Math Supplement Thoughts
When you purchase access to Algebra for Breakfast all of the curriculum is not immediately available to you. You must work sequentially through the program and after 60 days you will have access to everything. I understand that math is built upon principles but I personally prefer to have full access to a program from the beginning. For others that might not be an issue.
This program is heavy on manipulatives. The recommended set of math manipulatives contains 164 colorful blocks and a math dice set made up of 3 -six-sided dice, 2 – twelve-sided dice. If you already have these products then you are set. If you purchase the full access you are set. Kids who need tactile input like Riley will do well. Jahnna prefers video instruction to manipulating things so she was able to participate but in the end, she felt this was a drawback to the program for her.
As far as ease of use the website is very straight forward. It is simple to follow the lessons. Parent links are clearly identified, worksheets are consistently in the same location at the end of the lesson. Everything worked well for us as far as videos playing and worksheets printing. My only recommendation or wish would be to be able to download the videos. We are frequently in doctor offices while the girls work on lessons. If we are at the VA hospital there is no wifi available so they can't use this program there. Homeschooling for us needs to be flexible and portable and there were times I would have liked them to be working on a lesson but they weren't able to.
Overall I feel like this is a quality program. I think it is a great resource for teaching younger students algebra before they have a chance to decide they might not like it. I think this is a fantastic program for tactile learners who are not distracted by a classroom setting for the videos.
You can connect with Algebra for Breakfast on Facebook.
Be sure and click on the banner below to see what the other members of the Homeschool Review Crew had to say about their math supplement experience.