Forbrain – Sound For Life Ltd has generously sent us their Forbrain headphone set to review. I cannot even begin to tell you how excited I was to be selected for this review! I literally begged to try this out for a couple of reasons! If you've been following our chaos for any amount of time you know that Colby is non verbal. He says yeah and uh-uh sometimes but he usually talks by looking at something with his eyes or if he's really in a cooperative mood he might actually use his speech device computer. He thinks I can read his mind and that is typically good enough for him. The doctors aren't really sure why he doesn't talk. We know he can say words and that he understands what is being said to him. He has said love you, airplane, Buzz and war along with a few words I won't mention thanks to all the trash talking John and Colby do while playing video games together. Forbrain provides technology for speech and language difficulties and it seemed like a perfect fit for Colby.
We are always trying to find ways for Colby to communicate better so when I saw how Forbrain works and that it involves bone conduction and allowing the user to hear what they are saying I was truly intrigued. I wasn't sure if Colby could tell what he sounded like. He likes to talk and make noises and it looks and sounds like he is making sounds that should be words. I thought that by using Forbrain he would be able to hear what he sounds like and we could work on individual sounds and words as we used it.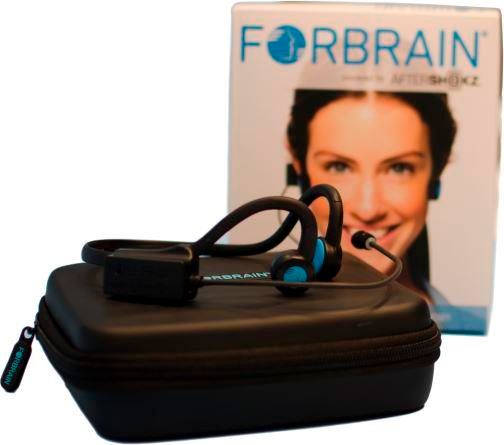 In addition to the bone conduction there is a dynamic filter in the headset that causes sounds to shift or alternate during the beginning of words and long vowels. This causes the speaker to unconsciously improve the quality and rhythm of their voice. While the filter is alternating it is also amplifying high frequencies and diminishing low frequencies. This helps with comical stimulation and increased energy. All of this works to improve the user's hearing as well as their vestibular system, core stability, motor planning, spatial orientation and balance. That all translates to clearer vocal quality, improved listening and greater focus and concentration.
You can connect with Forbrain – Sound For Life Ltd on the following social media sites Facebook, Twitter, and LinkedIn.
Be sure and click on the banner below to see what the other reviewers had to say about their experiences with Forbrain.