ArtAchieve has sent us their Entire Level II program to check out the last few weeks. Jahnna and Riley both love to draw so I thought this would be a great fit for them. There are 5 different levels of lessons to choose from. I am no art teacher so this is a great way for us to add some homeschool art curriculum into our studies without me feeling like I don't know what I'm doing. 

ArtAchieve is not just about drawing. Social Studies, Language Arts and Science are also incorporated into the curriculum. Each lesson focuses on art from different areas of the world and each lesson delves deeper into the art forms then a drawing class would.
There are 14 lessons in Level II as you can see in the picture below. I love how eat lesson is tied to an area of the world or like in Lesson 8 to math.
Each individual lesson has three different options to view the lesson like in this picture.
I love how you know exactly when a lesson expires. The lessons are available for one year after purchase which is plenty of time to complete the course.
If you choose to use content standards they are provided at the beginning of each lesson.
There are several slides that go into the history of the project the student will be working on.
The step by step instructions are nice for those that need more direction and guidance.
There is a lot of encouragement in each lesson and a time to reflect on what you have learned.
I thought it was fun to listen to Jahnna and Riley describe their different reasons and thought behind each project. Even though the projects were similar they had their own touches added to them.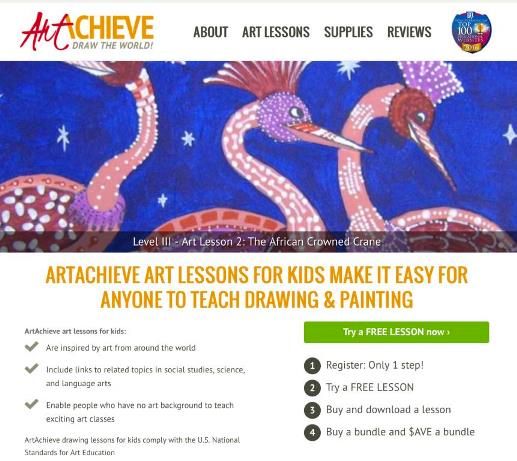 My Homeschool Art Curriculum Thoughts
I'm happy to say that both girls love this homeschool art curriculum! We will be continuing on with Level III once we've completed this level. This is a picture of Riley with a finished Japanese Fish drawing she completed.

One of my favorite things about this curriculum is how well other subjects were incorporated into it. Riley loved learning the history behind each lesson. Jahnna loved the prompts to think deeper about the subject matter. I'm excited about anything that gets them excited so it's a win win for all of us!
I appreciate that there is a link to Amazon where you can purchase a soundtrack to draw to. It's $8.99 and there are no words but it is designed to help keep the student focused and on task.
The great thing about ArtAchieve is that you don't have to buy the bundle all at once. You buy them individually. As you go up in levels the price increases slightly for each lesson. More work goes into putting together the bundles for older students so to me that makes perfect sense. Level II lessons are $5 each or you can save 25% and buy them all together for $53. Again the price goes up as the levels get harder but a 25% discount is a pretty significant price decrease. You can also sign up to try a lesson for free if you want to check it out before you spend any money.
You can connect with ArtAchieve on Facebook, Twitter @artachieve, Pinterest, Google+, and Instagram.
Be sure and check out what the other reviewers had to say about their experiences with the different homeschool art curriculum levels.