Have you ever wondered what the meaning of a name was? CrossTimber knows all about names meanings and the history behind them. I was so excited to have the opportunity to review their Personalized Framed Plaque with Name Meaning and Bible Verse. I started off this review determined to stick with one name. My dilemma was in which name to choose. I could tell these would make fun Christmas presents but if I only chose one person how would that work? It didn't and I ended up getting four names! I just couldn't choose!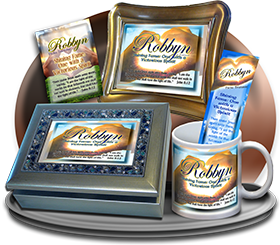 I received an email from John and Katie giving me all the details I would need to order for the review. First off, I couldn't believe how detail oriented the instructions were! I was so impressed that they had thought of any potential problems you might have trying to choose a name and a product. It was easy to see that they value their customers and want to provide quality customer service during your experience with them.
I thought I'd start out by asking about my kids name meaning. Jahnna is usually mispronounced and Colby and Riley have both become gender neutral names since we named them. This is my email to John.
and this is what I got back from him.
I laughed so hard over the big biker dude comment! I also told my husband John about it and as a big biker dude himself, he thought it was pretty funny! Then I couldn't get over how appropriate each of the names were. Paula was just included as a pronunciation guide for Jahnna but John still sent me the meaning, which I thought was really cool.
Jahnna was named after John. He always wanted a daughter named Johnny but I knew a girl in college named Johnny who I didn't particularly like and his entire family calls him Johnny because he's John the third! I think my mom suggested Jahnna as a variation of his name and we both liked it a lot. It wasn't until after she was born that my cousin asked me if we had named her after someone in our family line generations ago. That was a fun surprise! Jahnna speaks the truth all the time. IF (and that's a big IF!) she try's to tell a lie it is written all over her face! She is very black and white when it comes to her thinking and if she knows something is true she is not afraid to say it!
Colby is named after my Great Grandma. She passed away the week Colby was born and she knew we were naming him after her. Colby was her maiden name and when I told her we wanted to name him Colby she said "Well I've never heard of a boy being named Colby but I'm honored!" You might not think that provider and protector of the home would apply very well to someone who requires total care but it completely fits Colby's spirit. His courage and strength of heart continually amaze me and when I read his scripture and name meaning it brought me to tears. It fits his life and personality perfectly!
Riley has a fun story attached to her name. We knew we wanted to use McClain as a middle name but we didn't know if she was a boy or a girl yet. McClain is John's grandma's maiden name and we wanted to continue using family names. I didn't like it as a first name but agreed it made a great middle name. We were watching National Treasure one weekend and I was tossing around names. The name Riley kept being said in the movie and I finally said "Riley McClain, I love that and it works for a boy or a girl!" John couldn't believe I wanted to name one of our kids after the dorky guy on National Treasure. Despite that, Riley's name fits her to a T! Valiant and Brave is definitely the girl who took on 9 boys defending herself. Kid doesn't know how to back down and will stand up for right when she see a wrong being done.
After choosing the kids pictures and frames I decided John needed something as well. Who am I kidding? I was having to much fun to stop! I chose each picture background based on everyone's personalities or likes. John says that there are no prettier sunsets or sun rises then out on a ship in the middle of the sea. He gets pretty depressed in the winter with all the cold and snow so I'm hoping a cup of hot chocolate in his name cup will help him remember the pretty sights and places he has been.
CrossTimber generously gives discounts when you purchase more then 3 items. You can see the bookmarks in Riley and Colby's pictures. We received bookmarks for each name I purchased I just didn't get good pictures of them. You can see the discounts available in the picture below.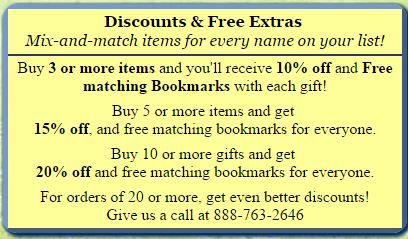 I am so pleased with the products we received. The entire transaction was so easy and I cannot wait to see everyone's faces on Christmas morning.
Name Meaning Giveaway
CrossTimber is holding a Name Gift Giveaway through December 4th. You can enter the giveaway for a chance to win a free Name Gift or a $10 gift certificate! The grand prize winner may choose between a: Personalized Mug OR a Name Plaque or 8×10 Plaque! 9 other people will win a $10 Gift Certificate. You can enter using the Rafflecopter form below.
Rafflecopter
a Rafflecopter giveaway
You can connect with CrossTimber on Facebook and Pinterest.
Be sure and check out the other products everyone chose by clicking on the banner below.