Sunya Publishing is a brand new company with two math games. We were able to get our hands on Sunya – The Magic and Wonder of Math and Science Multiplying & Dividing before it's even available for purchase. Riley was having some trouble with the upper multiplication numbers and I thought it might be fun to try a new math game out with her. She loves all games and math games are still high on her list of fun things to play.

The multiplying and division math game is for students ages 9 to adult and can be played with one to five players. There are 2 sets of cards for a total of 60 playing cards and 30 fact and riddle cards.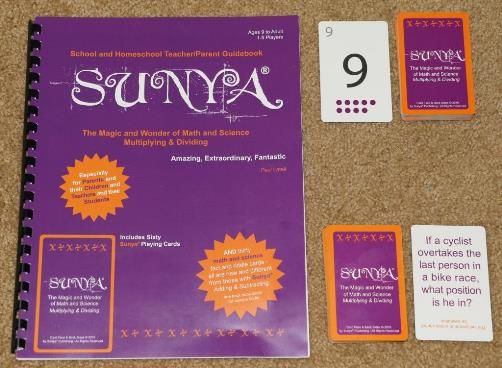 The game itself is fairly simple once you figure it out. You decide if you are going to play multiplication or division and you start out with a number sentence. From there you replace different numbers using your hand of cards to make another true math sentence. If you can't make a true number sentence then you draw one card at a time until you can make a number sentence. The first player to use all their cards yells Sunya and the game is over. Players can help each other and you can play with the cards face up so everyone can see or you can hold them in your hand.
Our Math Game Experience
I said the game is fairly simple once you figure it out. The instruction booklet is 25 pages long! If I said I wasn't overwhelmed when I first went through it I'd be lying. It starts out with different tidbits like Sunya is a Sanskrit word for empty. There are several variations to how the math game can be played and whether or not it is being played at home or in a larger setting like school. I figured that would be a great way to change things up and expand upon the simple version once we got the hang of it.
The instruction manual is pretty technical and definitely above most nine or ten year old's reading levels. Here's a perfect example "Using a Card in the Product/Dividend Takes Precedence. A card in the product/dividend may be moved with its underlying cards within the product/dividend from the units place to the tens place or vice versa." Hum-in-a-huh? I had to read it three times to make sure I understood it correctly. Once I got the basics figured out it wasn't to difficult to go from there and start the game.
When we first got the game laid out I was still a little confused as to where the science cards came into the game. They stay in their pile until there is a winner. The winner then selects one of those cards to read out loud or question one of the other players. Some of them are jokes and others are trivia cards. They are kind of fun and Riley really enjoyed reading them but they didn't really seem to fit in with the over all theme of the game. I went through all of them and they are a lot of fun so I'm not recommending that they don't be used. It is fun to try and figure some of them out. I do with that the two types of cards had different coloring so that they were easier to tell apart if they get mixed up, maybe purple on the outside ring with the orange in the middle so the colors are still similar but there's an obvious difference.
I feel like Sunya has a lot of promise and that it would actually be very useful for kids who are still learning their multiplication tables instead of those who almost have it mastered. Riley enjoyed the game and we've played it quite a few times. We have not tried division yet but will be getting into that over the summer. Remember Sunya Publishing is a brand new company so the math games won't be available for purchase for a few more days.
You can see what the other Crew members had to say about their experiences by clicking on the banner below.