Fascinating Education graciously allowed us to review their Fascinating Chemistry course. This is the first course of three that are currently available. The other two are Fascinating Biology and Fascinating Physics. You might wonder why Chemistry is suggested as the first course when most suggest Biology, then Chemistry and then Physics. Dr. Margulies feels that the study of Biology builds off of the chemical properties of the components of cells so it is smart to start with Chemistry.

Fascinating Chemistry has 19 lessons in the program. That doesn't seem like a lot until you realize how much information is packed into each lesson. It takes about a week to complete each lesson. Some students will want to go faster and some will want to go slower. It's easy to adapt the lessons to your student's speed.
Chemistry has some labs that go along with the course work. The materials, for the most part, are probably already in your home. Drano, distilled water, a bunsen burner or a small blow torch are some of the items that you will need. I know not everyone is going to have a bunsen burner laying around but some type of flame should work fine. We used a small acetylene torch for that particular lab. There are twelve labs to go along with the nineteen lessons.
Each of the different studies can be used with high school or middle school students. If you re going to use this with a middle school student they need to be strong in math. There are several lessons that talk about balancing chemical equations or determining mass.

Our Chemistry Experience
Jahnna is going into ninth grade. Her math skills are not strong so we took some of these lessons a little slower than others. She was able to start the program easily. Each lesson is very easy to follow. You simply start at the beginning and the presentation progresses along on its own. Each section is a series of slides with voiceover by Dr. Margulies. He explains each concept in-depth without sounding condescending.
Jahnna felt a little rushed at times so I asked her if having a pdf copy of each session would be a good idea. She could make notes as she needed but it would be simple for her to go over areas that were confusing for her. Jahnna liked that idea so that's what we did. The slides move quickly and the combination of the printed out script and using the pause button she was able to go over everything as many times as she needed.
Mastery of each lesson was a little bit harder for Jahnna. It's always a challenge when reviewing products during summer to keep the focus on learning! There were a few tests where she had to redo them because she was hurrying or she just figured it wasn't a very big deal not to pass it. She is interested in some of the classes that will be coming soon to Fascinating Education so after being told there was no way I was going to buy those if she didn't learn Chemistry first, her test scores improved significantly! Fourteen years with this child and I'm still surprised at what motivates her at times!
My Chemistry Thoughts
Fascinating Education recently updated their servers and made some changes due to past Homeschool Review Crew suggestions. I think they have done a great job with the new improvements. The information is age and skill appropriate. This takes the pressure off of parents to teach "scary subjects" and provides students with an excellent opportunity for growth and learning.
The site set up is very easy to use and runs smoothly. The tests are challenging but the option to have a hint is great for kids who have test anxiety or who just need a little help. I don't think that is a bad thing for high school students or for those transitioning into high school. I personally like that you have the option to print the tests out so you have a record of it. You can also take or give the test multiple times until you feel your student understands the material. I would like to see the ability to track test scores over time in some type of administration panel for parents but it's not hard to have your student show you what they scored so you can record it.
My only other suggestion for this program is that when you log on it shows every class title as available until you click on it. Then it says you need to register for the class. Now I know it is easy to remember what class you are signed up for but it seems distracting to me. It's completely a user preference and doesn't take away from the program in anyway. It is just one of those quirks that for whatever reason drove me nuts every time Jahnna logged in. I will say it's great for marketing though. Jahnna kept asking me when I was going to sign her up for the Fascinating Medicine course. Right after you pass the other courses Jahnna, was always my answer! Maybe that's not something that should be changed after all.
I'm inpressed with Fascinating Education and I think you will be too. Still not sure if this is a good fit for your family? Check out these free samples of Chemistry, Biology, and Physics.
Be sure and click on the banner below to see what the other members of the Homeschool Review Crew had to say about their experiences with Chemistry, Biology and Physics.
SaveSave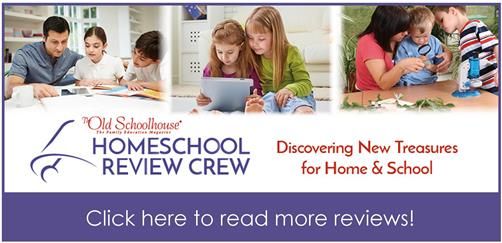 Save
Save
SaveSave
SaveSave