Math Mammoth continues to be a main math curriculum for us. This year it's Riley's turn to use the download version of  Light Blue Series  Grade 5 Complete Curriculum. I continue to love the curriculum because it is so easy to use!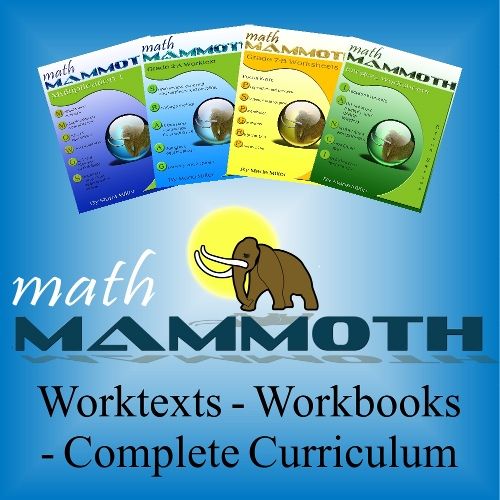 There are two workbooks for the students to complete. Math Mammoth calls them Book A and B.  Book A contains 208 pages with 170 of those being lesson pages. Book B comes with 201  pages and 176 lesson pages. Each book provides the answer keys, tests, and cumulative reviews so your student doesn't forget what they've learned in the past. If you purchase the donload version there is also a worksheet maker for extra practice if you want to use it.
The download version also includes a Soft-Pak which includes 6 programs, four math, one language arts and one list maker. These are available to use either as printed material or on-screen.
Before I go much further in this review I do want to point out that this is Common Core aligned curriculum. If you hate that idea don't stop reading! I'll tell you how we adapted to make it fit our needs towards the end.
The Grade 5 curriculum teaches the following concepts:
the four operations with whole numbers
place value with large numbers and the judicious use of calculator
problem solving & simple equations
decimal arithmetic (all operations with decimals)
statistics and graphing
fraction arithmetic (all operations with fractions; fraction division is only dealt with in special cases)
geometry: review of angles, area, and perimeter; drawing circles; classifying triangles & quadrilaterals; volume of rectangular prisms
If you'd like to see some examples of the Math Mammoth curriculum you can see them at these links. 5-A contents and samples,
5-B contents and samples, User Guide, grade 5 and Grade 5 & Common Core.
Fifth grade is where fractions and decimals are covered in depth. Multiple digit multiplication and long division with two digit divisors are learned. There is some fourth grade material reviewed, mainly divisibility, factors and prime factorization. Calculators are used for the first time in chapter two. Equations and problem solving, decimals and their operations follow. Graphs, averages and mode, addition and subtraction of fraction, multiplication and division of fraction are taught. There is a bit of geometry with angles, polygons, classifying triangles and quadrilaterals and finishes up with volume.
There are not very many materials needed for the fifth grade curriculum. In book 5-B you will need a ruler that measure inches and centimeters, a compass and protractor and fraction manipulative's.
Our Math Thoughts
Math is not my favorite thing to teach! It's probably not a surprise, most parents feel that way when it comes to homeschooling. We have been able to try a variety of math programs but I keep coming back to Math Mammoth. The lessons are straight forward with no added non sense or fluff to fill out the pages. You can print an entire book or only the pages you need each day or week. The zip file is easy to use without endless amounts of files to dig through to find what you want. When you complete a book you can be sure your child knows the concepts.
As my kids get older I appreciate the straight forwardness of it all. Last week I told both girls that I didn't care if they did it all in one day or spread out over the week but they needed to complete ten pages of work by Friday at 1:00 pm. Jahnna finished hers on Monday morning while Riley started hers on Friday morning. Both were able to follow the chapter they were on and complete the work with very little help on my part. When they were done I checked their answers, corrected a mistake or two and that was it.
Common Core Aligned
As far as Common Core goes, I don't personally care if a curriculum is aligned or not. I do know that there are others who despise it. I hate how convoluted common core seems compared to how I was taught math. There are some portions of the curriculum that I told the girls to simply skip or to do it the way they learned how. For Jahnna that means the older way, for Riley it means using mental math. Riley got quite upset when John called one of the problems stupid. She mistakenly thought he called her stupid for doing the problem the way it was shown. After I calmed down the hysterics and showed her how John and I were taught she had a better grasp of different ways to solve problems. It was a good learning experience for both dad and daughter!
My Recommendation
If your children are young I highly encourage you to purchase all the grade levels bundled together. You will be able to transition smoothly while letting your child set the pace. If your child is older then have them take the math placement tests to determine which level is needed. Math Mammoth is great for summer supplementation or to use as your main source of math instruction. We will continue to use Math Mammoth to teach math at our home.
Connect with Math Mammoth
You can connect with Math Mammoth on the following social media sites, Facebook, Google+ and YouTube.
Be sure and click on the banner below to see what the other Homeschool Review Crew members had to say about the different levels they reviewed.