Institute for Excellence in Writing (IEW) has a fantastic essay writing program called High School Essay Intensive . Designed by Andrew Pudewa to give your student experience with high school essay writing. The program includes text analysis, how to respond to literature prompts, and the college application personal essay. A large emphasis is placed on understanding the new ACT test and how to prepare for it.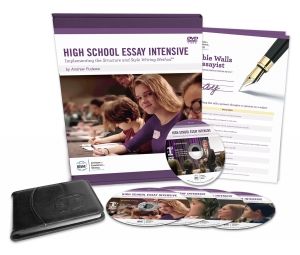 The program itself contians 5 DVD's, student handouts and portable walls for the essayist folder. If your student thrives on instruction from others these DVD's are for you! Six and a half hours of video instruction that took place during a live presentation by Andrew Pudewa. There is an option to access the DVD's on video streaming if you would rather not use the discs.
The portable walls for the essayist folder is actually a tri fold cardstock folder. There are lots of tips and "cheats" written out to help students remember important elements of writing.There is a chart for the specific models of essay writing. Essay Models are explained with pictures showing how to expand the essay into a variety of topics. The back of the folder contain examples of transitional words and phrases and a section on prepositions.
Inside of the folder is a stapled packet of papers that is meant to be used for note taking during the video presentations. The handouts are meant to be used for an individual student. IEW has a generous family use policy that does allow for making copies for immediate family members.
Our Essay Writing Experience
Jahnna loves writing. Creative writing, that is. Formal writing, not so much. I asked her thoughts on the program before we were selected for this review and she was interested. Jahnna was excited to get started when the package arrived. She immediately opened it up and started watching the first DVD. Jahnna is fairly independent but I generally have to remind her a couple times to get started on a new program. She is really committed to learning how to write well so this came at the perfect time for her.
Over the course of the review period she has completed part one and started on part two. She has slowed down a bit but I think that is because she isn't technically in high school yet. The ACT's and SAT still seem far away. After talking with her about why she had slowed down I realized what the issue was. We talked about why learning how to write well for the tests now will give her plenty of time to develop those skills over the next four years. She is now excited to continue with the program and is looking forward to getting to the personal essay portion of the program.
My Essay Writing Thoughts
Institue for Excellence in Writing offers quality curriculum. High School Essay Intesive is no different. The DVD's always come in a nice case, and the materials stand up to use by students. Andrew Pudewa does an excellent job of instructing students. He's funny and charismatic. There were multiple times I heard Jahnna giggling while watching the DVD's. For an eighth grader to follow along, be engaged and improve her writing in such a short amount of time, I am impressed.
I figured I'd end up watching the program, pulling her into sections that would be relevant to her and save some of the testing portions for when she is older. While the talk about ACT's and SAT's started to stress her out, it was easy to pull her back in and want to continue. Jahnna isn't sure of her plans for the future and that's okay. She's still young but learning how to write well will benefit her no matter what she chooses to do.
I highly recommend this program for anyone wanting to develop their formal essay writing skills, those who will take the ACT or SAT or for those who are not confident writers in general. There is so much information that I'm sure you will benefit from it.
You can connect with Institute for Excellence in Writing on Facebook, YouTube, Twitter @IEW, Pinterest
Click on the banner below to see what the other 59 reviewers had to say about their essay writing experience.