Only Passionate Curiosity, is a site owned by a former Homeschool Review Crew member, Heather Aliano. She has a new product out called Homeschool Rescue. This online course is not just for new homeschool parents it's for the veterans as well. Heather has been homeschooling since her oldest was in Kindergarten. Just a few short months in public school showed her it was not a good fit for her family.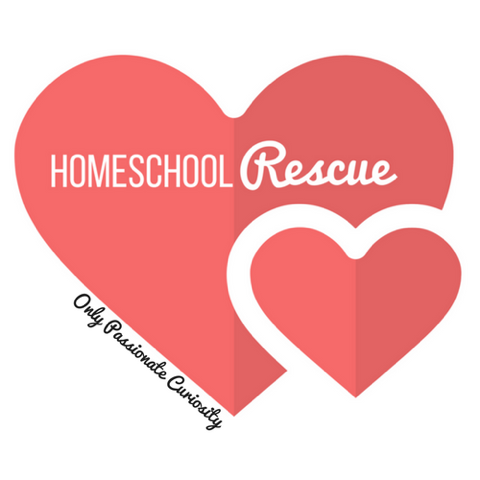 Homeschool Rescue was designed for those of us who are struggling, overwhelmed, feeling alone or for those who just need a little outside perspective. I've been homeschooling for 6 years and there are many days I feel at least one of those. This online course currently has five modules of instruction. Each module has several lessons and lots of resources. There is a video to watch that contains the lesson, some have homework assignments, others have goodies like high school planners for teens. The transcripts of the videos are available to download or print at your discretion. There is also the option to download the audio so you can listen on the go if you would like.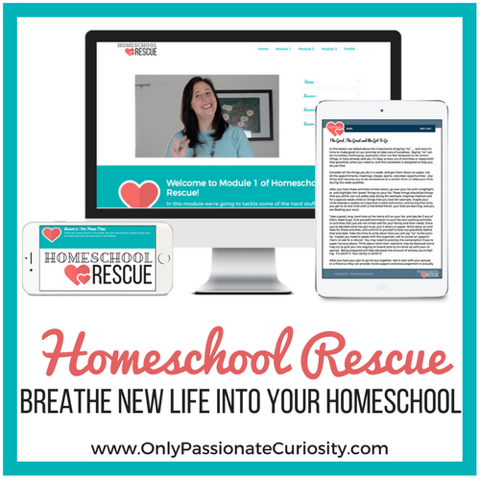 Some of the topics addressed include how to set up your homeschool, special circumstance schooling, looking to the future and teaching teens.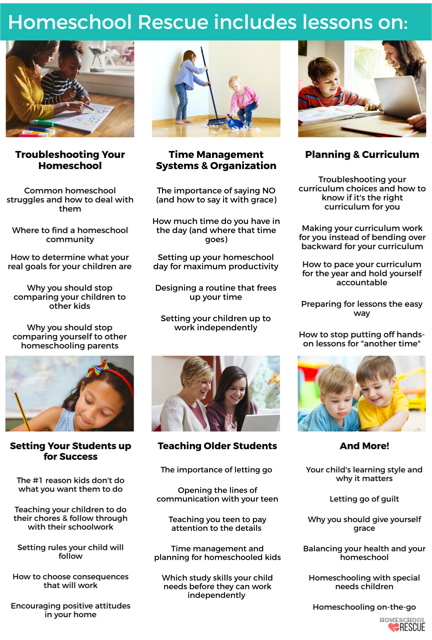 Heather is going to be running the program in sessions with the first session starting soon. She wants to be able to give targeted support to each person who signs up. Sign ups for the next "live" class will end in June so head on over to the website to get signed up.
My Homeschool Rescue Experience
I mentioned before that I've been homeschooling for a little while. I've reviewed a wide range of homeschool products. We've done school at home (I don't recommend that!), online charter schools, and a bunch of other styles. I could probably write a book on various methods of homeschooling if I wanted to, I've certainly read enough books and blogs on the subject. I wasn't sure if I'd get much out of the Homeschool Rescue program.
I'm happy to say that I was able to much more than I anticipated. A lot of the information is solid, standard advice. What makes this different is Heather. She is so encouraging and realistic. There is a huge amount of emphasis put on taking care of yourself as you homeschool your children. It's a common refrain in the caregiving community. You can't take care of someone else if you don't take care of yourself. It applies to homeschooling just as much as caregiving. When Mom or Dad is overwhelmed, tired, and frustrated plans tend to fly out the window.
The lesson on Special Circumstances was written for me. At least it felt like it was. Over the last six years we have had to adjust where, when, and how we school for multiple health reasons. Between John and Colby we have plenty of doctor appointments or sickness interrupting anything I might try and schedule. Heather reminded me to breathe and go with where we are at. I know everything that was talked about but in the moment it's so easy to forget. With Heather's lesson and reminders it was easy to feel encourged and supported.
My Homeschool Rescue Thoughts
Life has a tendency to get away from me sometimes. John's third brain tumor has thrown us for a bit of a loop recently so I haven't been able to get through as many of the lessons as the 60 day schedule suggests. I'm okay with that because I'm excited to continue and to get to the newst module that goes into homeschooling through high school. Jahnna will be in 9th grade next year! I'm still not sure how that happened but I'm not ready for it!
I know that the information wil be beneficial to me and the future of education in our home. I am confident that no matter where you are in your homeschool journey that you will find something to benefit you in these modules. Hurry and sign up before registration closes.
You can connect with Only Passionate Curiosity on Facebook, Twitter, Pinterest, Instagram, and Google+.
Be sure and click on the banner below to see what the other 99 reviewers had to say about their experience with Homeschool Rescue.