Apologia Educational Ministries has recently come out with a new product. The name of the book is Internship for High School Credit. I was instantly intrigued for several reasons. First being that Jahnna is going to be a Freshman next year! Wait…what? I used to teach Freshman. How is that even possible? The second reason is that my second and third year of teaching high school and adult students I taught at a vocational school. The entire school was one big school for teaching trades. My class was Ornamental Horticulture and Floral Design. The second half of the second semester, I placed students into internships with local companies. I had a lot of fun, and I'd like to think that it wasn't so terrible for them either.
You might wonder why if I had placed students into internship positions would I need a workbook on internships for Jahnna? The first big reason is that I taught in a different state then I live in now. I had an amazing mentor who took me under his wing and helped me place those students. Sadly, I don't have a Roger to help me with that kind of thing anymore. The next reason is that Jahnna is my daughter, who is a teenager. I might have looked like I knew what I was doing with my students but the reality is my daughter knows me better then they did. Jahnna listens to her parents a lot, but sometimes she still needs to see or hear it from someone else.
Now that you have all of that backstory let me fill you in on what's in the book.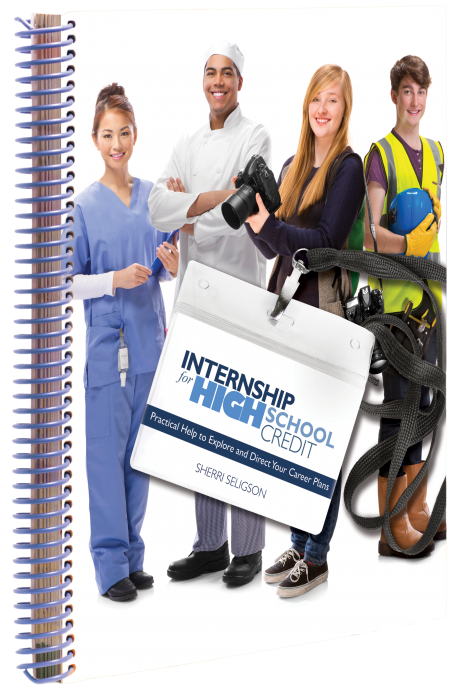 Internship for High School Credit is 99 pages long and spiral bound. Apologia is a religious company, so there are multiple references to religion, faith, etc., in the book. Sherri Seligson, the author, starts out explaining what an internship is, why a high school student might want to participate in one and how they might benefit.
Part One helps your student figure out what type of internship they want, how to prepare for an internship, how to receive high school credit for the internship and how to write a resume. There are samples of letters of introduction, resumes and interview questions.
Part Two is for parents. These pages consist of documentation for transcripts, course titles, and numbers, how many credits to assign, etc. It's full of all the little details that might get overlooked if you didn't have this book to guide you.
Part Three breaks down how to use the worksheets provided to chart goals, work performance, skills gained, etc. Each week has questions and activities to help your student think and explore their chosen field a little deeper. There are areas for supervisor feedback and areas for reflection on how they like the internship.
Part Four takes the worksheets from weekly activities to biweekly ones. The topics of study get more specific to the field chosen, and students are encouraged to write several papers on different areas of their experience.
Part Five wraps everything up into a final essay. After that the only thing left to do is to write a thank you note and ask for a letter of recommendation.
Our Internship Experience
Jahnna is going into ninth grade, so we have a while before she needs to get serious about what she wants to do. We worked together going over the first two chapters so she could get an idea of what to expect. The parent section was helpful in reminding her that I'm not making things up about child labor laws. There are actual rules and laws that have to be followed by businesses. We discussed some options for her to look at as she starts to consider what she might like to pursue.
My Internship Thoughts
I cannot recommend this book enough for anyone with a high school student. I don't care if they are heading into high school or just finishing. There is still time to either participate in an internship or at least gain some helpful tips going to college or a trade program. I would love it if every incoming ninth grader had this book. They would have plenty of time to read, explore, ponder, do what ever it is that they need to do to be ready when they get to their junior and senior years of school.
I find it incredibly sad that internships and trade programs have been cut from public schools. Even worse, is when trades and programs that encourage students to develop a skill are looked down upon as menial because it's not a college path. I feel it's incredibly important for kids to start learning skills as soon as possible. I don't think it matters if a child wants to be a plumber or a neuro surgeon participating in an internship would be a valuable experience for any of them.
You can connect with Apologia on Facebook, Twitter, Pinterest, Instagram, Google +, and YouTube.
Be sure and click on the banner below to check out what the other members of the Homeschool Review Crew had to say about their experiences with 
Internship for High School Credit. 
For those of you just starting your homeschool adventure be sure and check out the reviews of 
How to HOMESCHOOL with Stunning Confidence, Contagious Joy, and Amazing Focus (DVD & Coursebook).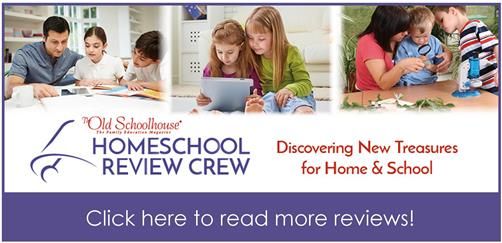 Save
Save