K5 Learning graciously gave us access to a six month subscription of their online program. This includes access to K5 Reading, K5 Math, and K5 Spelling. This is a supplemental program to fill in gaps or continue learning over vacations. Subscriptions are $14.99 a month or $119 for the first child and $9.95 a month for each additional child. Every parent account can have a total of four students under them.
K5 reading covers Phonemic Awareness, Phonics, Sight Words, Vocabulary and Reading Comprehension. There is a 150,000 word database that adapts to your student in K5 Spelling. K5 Math covers Numbers & Operations, Measurements, Geometry, Data Analysis, and Algebraic Thinking.
The program is easy to set up. The parent signs up and sets up the parent account. From there you add your student or students if you are using this with multiple children. The students will have their own login while the parent account can monitor progress, give assignments. When the student logs in there are assessments that they take to place them in the appropriate grade level. Each test takes approximately half an hour with a few games thrown in to break up session. After the assessments are completed they are given a grade placement. On the student side once they start an assignment in their grade level it must be completed before they are allowed to move on to the next topic.
The Reading and Math sections are very similar. The Spelling section is a bit different. The parent can either input a spelling list or use one's that are provided. Students can hear the word they are being asked to spell, see a dictionary definition with the word being spelled blocked out and read a sentence about the word. There are prompts if they get the word wrong and an option to practice the word if it is still incorrect.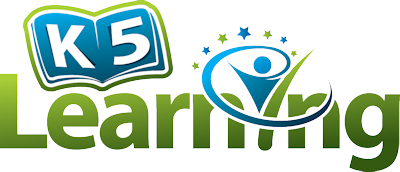 Our K5 Experience
I set Riley up with a 14 day free trial before we had the opportunity to request this review. I'm not sure if she was in a mood or rushed through it or just had a bad day when she took the assessment tests. She did not do well and placed in third grade for the majority of the sections. I was a little frustrated with her when all she said was "I don't know" to how it went. I figured if she was a full grade level behind on a supplemental program we had better step things up and have her use this more often.
When I signed up for the review I used a different email then the free trial I had set up for Riley. Oops! That meant she had to take the assessments again. I could have contacted the company but she agreed to do them again. This time she tested out of the 5th grade for reading. Um…say what? I know she's a good reader but I wasn't expecting that.
In the math section she did a little better then her original score. Riley quickly grew bored and that's when we started having issues. Using the program became a struggle when I added in spelling. There were tears over not being able to hear the words correctly. We decided together that she could stop using the program at that point. Riley is at a point where she wants to be like her big sister. She despises using programs that she feels are to young for her. This was her biggest issue with K5 in general.
My K5 Thoughts
For a supplemental elementary school program K5 Learning does a good job identifying gaps for most kids. For kids like mine who are either super stubborn or will tank questions just because they don't want to do it, it might not be a good fit. I feel like this is a program that most people should take advantage of the 14 day free trial. This will give you a good idea on if you should continue with the program or not. After having Riley take the assessments during the trial I did not have her continue with the lessons and I wish that I would have at that point. It would have saved us a lot of frustration and tears.
I don't want you to think that this isn't a good program based off of our experience. Riley has been stressed with John's brain cancer and for what ever reason took it out on me and school work during this review period. Younger students will do especially well with the layout and style of the lessons. I highly encourage you to check out the trial and let me know what you think.
You can connect with K5 Learning on the following Social Media accounts, Facebook, Twitter , Pinterest and Google+.
As always be sure and click on the banner below to see what the other members of the Homeschool Review Crew had to say about their experiences with K5 Learning.