Home School in the Woods is one of those companies that you know you are going to get an amazing product no matter what the topic! Make-a-State Activity from the Activity-Paks series does not disappoint! These are hands-on history units that help you and your student dive into an area of study while staying fun and engaging. Some of the other hands-on history products you might be interested in are the Time Traveler American series which has a great World War II study, other Activity-Paks like The Old Testament, Composers or Artists and the Lap-Paks that have units on U.S. Elections and Knights to name a few.
Let me tell you a little bit about how these Activity-Paks work before we get into the topic we used this time. You are making Lap Books with these Activity-Paks. Now if you have older students, keep reading, this isn't just for little kids. Each of the Lap Books is filled with 20 projects. These projects use creative writing, illustrations, mapping, and research to teach your student about the topic. If they are older and don't want to make a "Lap Book" then it's very easy to place the projects into a binder or to modify the activities to suit their learning styles.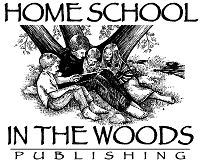 The Make-a-State Activity has been a lot of fun. These are some of the items that your student will learn about while using this Activity-Pak.
Key State Facts
Origin of State Names
State Geography
State Wildlife
Regions
State Symbols
Sports Teams
State Song
Recipes
When you receive the download link or the CD of the product depending on which one you purchased, you are going to be overwhelmed! I've used several of these units and it still hits me every single time! The easiest way that I have found to keep items straight and make sure I haven't skipped over something is to use the starthere.html file. It opens a tab online that links to each of the pages in the unit. There are instruction files, example photos, suggestions for books, videos, and websites.
If you open the files on your computer, the files are the same ones. I tend to get mixed up when I open them up that way so I prefer to use them in my browser.
I'm going to tell you how I like to approach these unit studies. You can print everything out all at once if you'd like. Personally, I hate that options. Pages get lost, mixed up or used for scratch paper when I'm not looking. I start by printing off the instruction sheets. The Make-A-State instructions are 11 pages long. This gives me something to follow along with or to check off when I need to. You can do all 50 states with this pack so I used the state initials to check off sections as we worked.


After I print off the instruction sheets, I look at our schedule and plan the week out. For older students like Riley, she can move a little faster. For younger students, I would suggest cutting out a majority of the pieces needed to assemble the Lap Book and have them do the coloring, pasting and filling in. In the Make-A-State pak, there are recipes for each of the states. Cooking can take up some time and possibly need ingredients that aren't on hand. I like to see what I will need and plan for those activities later on in the week.
The picture below shows a completed Ohio Lap Book so you can see an entire section put together at once.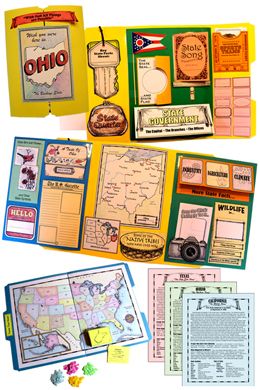 Our hands-on history experience
The Make-A-State pak contains quite a bit of information on each individual state but not enough to complete an entire unit on the state. You will need to use other resources like your local library or some of the suggested websites in the instruction pages. We chose to start with the state of Utah since that is where we live. I took Riley to the library and let her browse through the available books to gather material for this unit. Riley is 10 years old and going into the 5th grade. She feels she is on the upper end of completing Lap Books.
Riley is 10 years old and going into the 5th grade. She feels she is on the upper end of completing Lap Books. The suggested grade levels go up to 8th grade but depending on the student that might not work. Riley wanted to make more of a scrapbook type deal with a binder. I didn't have a problem with that at all. She simply cut out the materials and pasted them onto pages instead of file folders. We then placed the hole punched pages into a binder. When Jahnna was Riley's age she wanted to do the same thing. I love the flexibility of these units. It was easily adaptable and because Riley is older I required a bit more knowledge from her. She was able to continue writing information she wanted to remember onto additional pages. The binder method allowed her plenty of room to do that.
This kid and her cheesy picture face! Riley laughed when she saw the recipe for Utah. It is funeral potatoes! If you haven't heard of funeral potatoes then you haven't been to Utah. I swear that's what they are called and they are served at every single funeral or function you can think of. I'm pretty sure if the recipe hadn't been funeral potatoes it would have been a green jello salad. We both got a kick out of it.
My Make-A-State Thoughts
We really enjoy Home School in the Woods hands-on history studies. I love the attention to detail put into all aspects of each package. The pages, the instructions, the end product, it really is a complete package. Now that I know what works best for us in regards to printing pages out and assembly, it is very simple for all of us to get to work learning. I appreciate the ability to be provided with a base product and then be able to adapt it to our needs and schedules.
Make-A-State is a great way to learn about all the states either one at a time or all together. We decided to use them and research all the states Riley has been to. She didn't realize she had been to Texas even if it was only for a two hour layover. It's been fun watching her discover our country a little bit at a time. I don't think you can go wrong using this Activity-Pak in your homeschool.
Connect with Home School in the Woods on Facebook, Twitter, Pinterest, Google+  and YouTube.
Home School in the Woods has recently released a new À La Carte page that contains games, timelines, and shorter projects. If you aren't sure if the larger unit studies are a good fit for you, these should give you a great idea of what they would be like.
There are a ton of hands-on history products in the Home School in the Woods product line. Be sure and click on the banner below to see the other products members of the Homeschool Review Crew received and their experiences with them.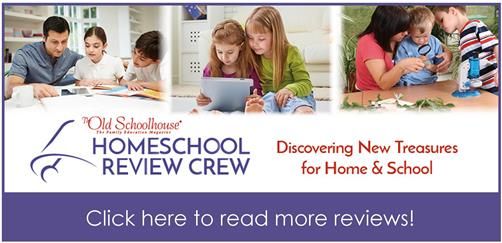 Save
Save
SaveSave