Apologia Educational Ministries has graciously sent us the entire Marine Biology 2nd Edition Advantage Set to use with Jahnna. I may or may not have totally geeked out over the news that we were selected for this review. Like every good 90's high schooler I wanted to be a marine biologist for at least two years.
Included in this review are the text, solutions, and student notebook. I was so excited to also receive the 
Marine Biology 2nd Edition Audio CD
, read by Marissa Leinart. Marine Biology is a high school level course. It is meant to used after Apologia's homeschool high school 
Biology
course. If you have any questions you can check out the  
FAQ
 for this course.
The Textbook comes in at a hefty 560 pages! Full of colorful pictures, on your own questions and sections called 
think about this
that will spark interest in different aspects of Marine Biology. Each chapter is laid out in the same way so there is consistency and students know what to expect. If you have read some of my past Apologia reviews, you will know that the books read like a narration. I personally love that about the earlier grade books. This continues into the high school level books. Apologia is also written from a creation based perspective. God and scripture verses are mentioned throughout the text. You can see an example in the picture below.
Before I get too much further into this review, I need to let you know that this course is designed to be independent. That means the student is in charge of their learning. There is no teachers manual even though there is a test answer booklet. The beginning of the textbook and the student notebook both contain sections on how to use the books effectively. I LOVE this! So many students need their hands held on how to learn something. Apologia makes it abundantly clear that students are in charge of their learning.   I'll touch on this again because it's such an important aspect of this program.
Next up is the Student Workbook at over 500 pages! Jahnna saw that and her eyes went wide! I might have chuckled just a little at her expression. Spiralbound this is a sturdy workbook that will stand up to a year's worth of work. There is plenty of room to write answers, draw pictures and record observations.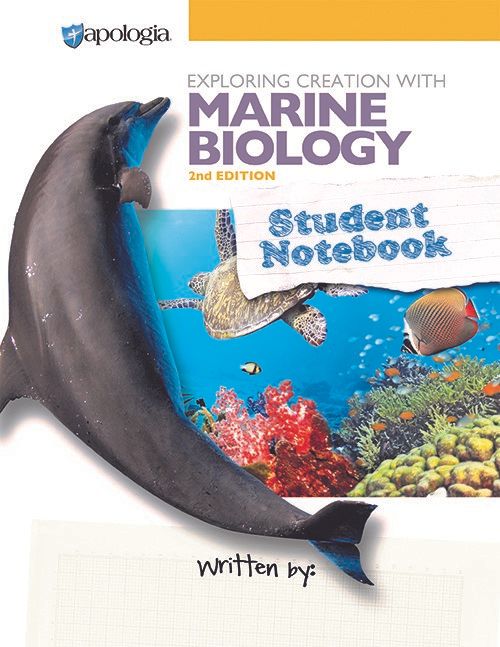 Some examples of the Student Notebook can be seen in these pictures.
Speaking of experiments, yes this course contains experiments! Quite a few of them actually. In order to fully complete them, you will need to purchase a
dissection
kit and a
microscope slide set
. You can start the course without them which is what we ended up doing. Towards the end of the Student Notebook, there is a research project section that shows how to present a make a presentation poster.
Apologia generously sent us the Audio CD as part of this review. I would be remiss if I didn't encourage you to include this in your purchase! Hearing the chapter read out loud as you read the words really makes the information sink in. Marissa Leinart has a great voice for narration and is easy to listen to. The CD can be downloaded as mp3 files or can be used in a car during travel. I enjoy listening to the CD in the car and have learned a lot just driving around town without kids in the car.
Our Marine Biology Experience
Jahnna thought we were getting the Biology book for review. When she saw that it was Marine Biology she was slightly disappointed. That quickly changed after she started looking through the books. Even though we have not used the Biology book before this course it was okay for Jahnna to start with this class.
Jahnna is used to be fairly independent in her school work so she really liked the suggested course schedule. She has been following it and has found that the schedule is perfectly paced for her. The narrative style of writing makes the text easy to read and understand. The entire family has had great discussions using the dive in sections to talk about evolution, God's plan and how scripture is still relevant when learning about other topics.
We have not received the dissection kit yet because I had to wait until this month to purchase it.  Using YouTube and various resources on the internet to look up images of the slides Jahnna had everything she needed for the first three modules. We were also able to use some of our own aquarium plants to complete the photosynthesis experiment. Apologia makes it easy to use what you have available to you and customize your experience as needed.
My Marine Biology Thoughts
I stated before that Biology is recommended before Marine Biology. I'm going to agree with that recommendation. Jahnna is completing her work but we've had to go over a few things separately. In the spirit of full disclosure, we are going to shelve Marine Biology for a year now that this review is complete. I'm ordering the Biology course this weekend so we can go in the correct order. I do think that we could continue with Marine Biology just fine but Jahnna is going to need Biology anyway, so why not make it simple and start at the beginning? This is especially true now that I know how in-depth and fantastic the Apologia high school courses are. I am completely impressed and happy that Jahnna enjoyed this curriculum so much.
I've said it before and I'll say it again, if you want a quality homeschool curriculum, you can't go wrong with Apologia. I am much more confident in my ability to provide Jahnna with a good high school science experience now that we have been able to use the Marine Biology 2nd Edition Advantage Set and the Marine Biology 2nd Edition Audio CD.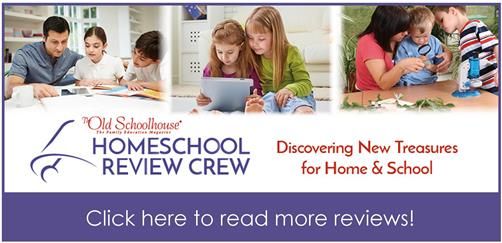 Save
Save
SaveSave

Save
Save