My husband took a Master Gardener course last year from our county office. He loved it and really wanted to pass that knowledge on to our daughters. When we were offered the chance to review The Book of Trees from Memoria Press I knew this would be a perfect opportunity for him to spend some more educational time with Jahnna and Riley.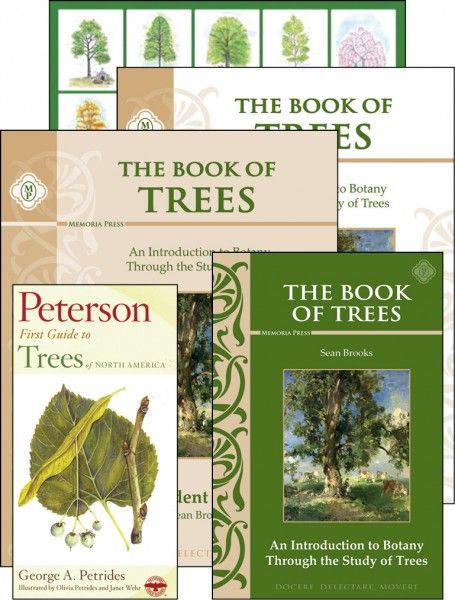 We were sent three of the books you see in the picture above. These are
The Book of Trees
,
The Book of Trees Teacher Guide
and
The Book of Trees Student Book
. The other two books
The Tree Book for Kids and Their Grown-Ups
and
Peterson First Guide to Trees
 are available for purchase on the website but are not needed to complete the course. I personally have not gone over either book but they do look like good supplements to have or review as you go through this study. The course work is suggested to use with grades six through eight.
I'll start by describing The Book of Trees. At eighty-three pages it is not a very large book. Don't let that lead you to believe that it isn't full of information because it is! While the book cover says this is just an introduction, it is a very thorough one. The first six chapters cover the structure of trees from the root system to the fruit. Chapter Seven talks about observation and how you can learn to identify a tree just by looking at some different characteristics. Chapters Eight and Nine are titled Advanced Work and go more in depth with chemistry and molecular structures.
The Teacher Guide is where you will find all the answers for the Student Guide. At the back of the book are quizzes and tests to be given during each lesson. On each of the lesson worksheets, the page numbers are provided as a reference to where the information is in The Book of Trees. The same page numbers are available in the Student Book.
The Student Book contains worksheets for each student to complete. I'm going to point out that Memoria Press does not allow for student sharing or copying. If you want to use this curriculum with multiple students you will need to purchase them their own workbooks. For this review I had Jahnna use the workbook since she just completed eighth grade. Riley followed along and participated in the reading and activities but did not do book work.
Our Memoria Press Experience
Jahnna, Riley, and John all enjoyed working together through The Book of Trees. Jahnna was less than impressed that she had to do worksheets but Riley didn't but life is never fair. Once we got over that little hiccup, they were both eager to learn. John has been going on daily "flower walks" with each of the girls since the snow melted. As they progressed through the book they started looking at the trees in our neighborhood. We've had to take a bit of a break due to John's brain surgery but they are excited to start again once John gets some endurance back.
I knew that Riley enjoyed learning about flowers and plants before we started this course so it was really fun to see her transfer some of that knowledge over to trees. Jahnna enjoyed sketching the leaves and fruit during some of the observation exercises. John is not easy to please when it comes to curriculum. He tends to think our children are scholars and require college level work to teach them. Having used college textbooks to teach high school students I know how unrealistic that expectation is. That being said, John was really pleased with how in depth the class went. I think it was even more exciting for him to realize how much the girls like to learn when it's less formal and more activity based. Reading outside while looking at the plants and trees was fun for everyone.
My Memoria Press Thoughts
I LOVE Memoria Press products. The worksheets are not colorful or over the top but they are consistently high quality. The questions and the lessons are straightforward. The grade levels suggested are fairly accurate but tend to be geared towards the higher end of the grades suggested. Riley just finished the fourth grade. She easily followed along with the material but would have grown frustrated with the written work which is why I didn't have her use it. Jahnna was able to easily use the Student Guide with no problems. We have not gotten into the more Advance Work yet with Jahnna. I was able to look it over and am confident that she will be able to get through that portion with no trouble.
I highly recommend any Memoria Press products you can get your hands on. You will not be disappointed.
Be sure and connect with Memoria Press on the following Social Media accounts: Facebook, Twitter, Pinterest, Instagram, Google+, YouTube, and LinkedIn.

Be sure and click on the banner below to see what the other members of the Homeschool Review Crew had to say about their experiences with the different products available to review. These include 
Prima Latina Complete Set
, 
Latina Christiana Complete Set
, 
First Form Latin Complete Set
, 
Second Form Latin Complete Set
, 
Third Form Latin Complete Set
, 
Fourth Form Latin Complete Set
 and 
Nature's Beautiful Order
. This is definitely a good chance to get a feel for a large selection of their products.