Memoria Press has sent us their fantastic First Form Greek Complete Set for Jahnna to try out. Jahnna has used Prima Latina curriculum in the past and was excited to try this. I love everything we have used from Memoria Press so of course, I was excited!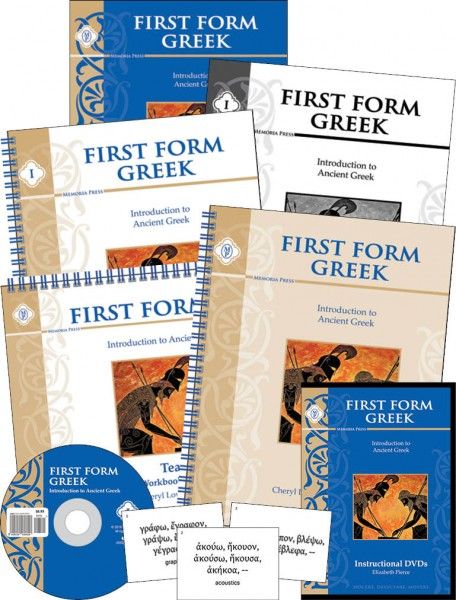 First Form Greek contains the following eight items:
A Student Textbook.
A Teacher Manual
A Student Workbook
A Quizzes & Tests booklet
A Pronunciation CD
Flashcards
5 DVD's containing 8 hours of 10 to 20-minute lessons.
Let's start with the Student Textbook. It's a smaller book only 9 x 7 inches big. There is a total of 31 two-page lessons in the book. Each lesson starts with a quote, scripture or inspirational thought written in Greek and translated into English. Some grammar follows and then vocabulary. By the end of the book, your student will have learned 130 words in Greek.
The Teacher's Manual contains all the pages of the Student Text with a suggested schedule for each day of the week.
The Quizzes & Tests book is pretty straight forward. There is a Quiz for each lesson with the Test at the end of the unit. There is a grading rubric at the front of the book that lays it all out for you, so there isn't any confusion.
The flashcards are sturdy and stand up to lots of flipping. The DVD and CD are both quality products.
Our Experience with First Form Greek
I asked Jahnna which product she would be interested in and she jumped on the Greek set. When it came, Jahnna opened it up and took off with it! I had to make her bring it back so I could look at it first! Jahnna is fairly self directed in her learning. The only thing I have to stay on top of her is Math. If she likes a curriculum, I don't have to remind her to do any of it. Over the last six weeks I have walked in on her watching the videos or working on flashcards more times then I can count! I had to laugh because she even corrected her own quizzes and tests.
As I was getting ready to write this review I wanted to get her thoughts on it. Her feedback is that she has learned a lot, she really enjoys it but sometimes the teacher on the DVD talks to fast. Coming from a girl who speed talks when she is excited, I found that pretty funny! Jahnna has decided that she will stick with the program even though it was harder then she anticipated.
My First Form Greek Thoughts
I've said it before and I'll say it again, Memoria Press puts together quality products. The books are sturdy and stand up to the abuse kids can deal them. The pages and artwork are never overwhelming. Everything is laid out in systematic manner that is easy to follow and to understand. I truly love the hardwork that goes into each piece of their curriculum sets.
First Form Greek has a suggested grade level of sixth grade and above. The suggestion is for your student to have completed at least two years of Latin and the Greek Alphabet Book. Jahnna has done one semester of Latin and learned a little bit more on her own. She has not used Memoria Press' Greek Alphabet Book. I thought that might be a disadvantage for her but she has enjoyed the challenge. Jahnna has asked for the Greek Alphabet Book to help her out a little bit more.
I will admit that Greek holds absolutely no interest for me. All I could do was look over the materials and offer to help as needed. There were a few times we worked together and I did end up grading the majority of her work. The materials are presented in such a way that you don't have to have any experience in order to help your child learn. The DVD's are the biggest help for the program. The pronunciation and charts that are provided are invaluable when it comes to learning a difficult language.
I'm not sure that I would suggest this for a student younger than eighth grade. It is hard work! Jahnna loves it but it is hard and slow going. Her determination to learn the language is probably the only reason why she has stuck with this. She did eventually have to slow down, go back on multiple lessons and redo some quizzes and tests. I think this is a wonderful program but for most kids, it would be a better fit in the upper high school levels. Parents know their children best so look it over and see if you think it's a fit for your family. I highly recommend it for anyone looking to learn the Greek language who has the maturity and desire to stick with it.
Memoria Press Social Media
You can find Memoria Press on Facebook, Instagram, Twitter as @MemoriaPress, and Pinterest.

Be sure and click on the banner below to see the other products that were reviewed by the Homeschool Review Crew. These include the 
Iliad & Odyssey Complete Set
, 
The Story of the Thirteen Colonies & the Great Republic Set
and 
200 Questions About American History Set
. You can't go wrong with a Memoria Press product, so I hope you will check these out.