Progeny Press recently sent us one of their E-Guides for review. I selected The Silver Chair E-Guide to use with Riley. The Silver Chair is the sixth book in the Chronicles of Narnia series. The E-guide is 61 pages long and for grade levels 5-8. The digital download can be purchased for $18.99. It is important to note that you must obtain the book separately from the guide. Books can be purchased through Progeny Press, other sources or borrowed from your local library.
Progeny Press has a mission "To teach our children to think clearly, to understand literature, and to rely on the scripture for truth and values, and enjoy themselves while they do it!" This is definitely achievable when using the E-guides in your literature studies.
Each E-guide includes the background of the author and the story being studied. There are suggested pre-reading activities that will give your student a glimpse into the story. Some of the suggestions for The Silver Chair included visiting a cave or watching a documentary on caves. Vocabulary and content questions can be answered in the pdf format or you can print the pages for your student to use. Progeny Press wants to develop students abilities to analyze literature so there are plenty of literary analysis and terminology questions as well as critical analysis questions. The critical analysis questions allow students to dive deeper into the moral, spiritual and intellectual issues of a story and are usually accompanied with scripture references. For parents and teachers, there is also an answer key provided.
Our Progeny Press Experience
Riley loves to read. She had read all of the Harry Potter series by the time she was eight. Shortly after she finished that series I showed her the Chronicles of Narnia books. I think she was still a little young for them so she didn't get too far into the first book. This time I didn't give her a choice. Such a mean mom! Riley has trouble following directions and remembering things she doesn't think are important. She has also been on both sides of the bullying issue so I figured this would be a good story for us to read and learn from. I couldn't have selected a better way to dig deeper into these topics.
The suggested grade level for this book and E-guide is fifth through eighth grade. Knowing that Riley would be entering fifth grade this fall I still chose to go ahead with this level. There were some critical thinking questions and analysis questions that she struggled with and I was fine with that. I was able to adapt the E-guide as we needed it to meet her at her current level while encouraging her to grow a bit.
Riley enjoyed looking up caves before we started using the guide. We have some caves near us that are an easy hike that we will be exploring in the next few weeks. It's hard to do that when Colby is not in school for the summer, so I promised Riley we'd get there this month.
Hearing odd words that seem way too big for a ten-year-old is a common occurrence around our house. I'm always surprised at Riley's choice of words. She has an extensive vocabulary and loves to play with word usage. Her favorite portion of the guide was the vocabulary section and learning new words like Moor, and nosegay.
My Progeny Press Thoughts
Progeny Press is a solid company that really stretches students minds. If you are not religious this is definitely not a curriculum for you as everything has the Bible incorporated into it in some way. Riley was irritated at times that it wasn't Sunday and we were using scriptures to learn with, but that's just my girl. Once she got into a routine of using the book, the guide and scriptures it wasn't an issue anymore.
I like the idea of an interactive guide. It lets you enter your work on the computer and saves a ton of paper and ink. That being said every time Riley entered an answer she would have messages pop up on the next page saying it couldn't be reformatted because of the interactive feature.
I don't know if that is because we use Mac's or what the deal was. I had planned on contacting Progeny Press to ask about it and never did get around to it. We ended up saving her work after each page and then going onto the next and it seemed to limit the messages to two instead of five or six. It was a minor inconvenience and if I really hadn't wanted to deal with it, I would have just printed off pages each day.
I have really enjoyed helping Riley with some of the big issues discussed in The Silver Chair. Progeny Press has done a great job and I wouldn't hesitate to use them again or to recommend them to you.
You can connect with Progeny Press on Facebook, Twitter, Instagram, YouTube, and Pinterest.
Be sure and click on the banner below to see what the other members of the Homeschool Review Crew had to say about the E-Guides they reviewed.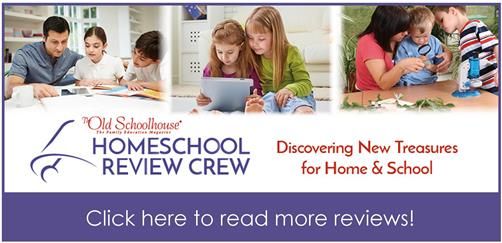 Save
Save
Save
Save
SaveSave
SaveSaveSaveSave
SaveSave