Apologia Educational Ministries recently sent a copy of the new 
Readers in Residence Volume 1 (Sleuth)
for us to review with Riley
. The program is designed for students in the fourth through sixth grades. Reading comprehension skills are developed as students work through the assignments and activities. There are
two books in the Readers in Residence set. The first is a student workbook that contains all the text and activities in one spiral bound location. The second book is an answer book for the parent or teacher.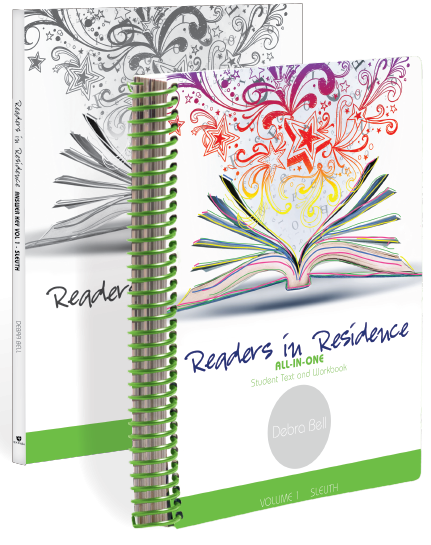 This is a reading course so there are some required books to use with the program. These are not included in the bundle and will need to be purchased or borrowed to complete the course. The titles are 
Sarah, Plain and Tall, Charlotte's Web and Because of Winn Dixie. 
There are specific ISBN numbers listed for these books. During the study, there are page numbers listed that correspond to that specific ISBN number.
Upon completion of the program your student will learn the following skills:
understand the author's craft, choices, and intentions
recognize the literary elements authors use to create fiction and nonfiction
make inferences from the details in the text plus their own prior knowledge and experience
decode the meaning of unfamiliar words from context clues
build a rich and varied vocabulary
identify and understand figures of speech such as personification, metaphor, and hyperbole
notice how expert writers employ the conventions of the English language (punctuation, capitalization, grammar, and usage) to achieve clarity
Riley's Reading Experience
Riley has started reading a lot of classic literature this year. I was kind of surprised to find her in conversation with a local librarian about the best classic books to read for her age. Sometimes she still surprises me with her confidence and independence. I knew she had not read Sarah, Plain and Tall  yet so this was a good way to incorporate learning with her desire for more good stories to read.
Riley enjoyed learning about how to be a reading sleuth. The student text was written in a fun and engaging manner for her. Riley loves the character development project in the first section. Jahnna has been taking a novel writing class so this encouraged Riley to start developing her own characters along with the curriculum. Riley got a kick out of some of the illustrations and assignments. There is a ruminate section which led to a fun discussion on cows and their digestive systems. Lucky for the girls, I actually know a thing or two about cows!
Overall, Riley has enjoyed learning more about how to be a better reader. We plan to continue using this curriculum through to it's completion.
My Reading Thoughts
Apologia is one of those companies that you can be sure of getting a good product from. The quality of the materials are always sturdy and stand up to being used by kids. The curriculum itself is throrough and detailed while the pictures are bright and inviting. Readers in Residence lived up to my expectations on every level.
I appreciate the suggested daily schedule at the beginnning of the program. It's set up along a four day schedule and doesn't leave the student feeling overwhelmed. Riley was able to follow along and complete each day with little to no prompting. From a parent or teacher perspective, the rubrics provided for grading projects are wonderful. The Answer Key book lays everything out for you with the suggested student answers in green print. There are sample answers available for open ended questions. The Checklist Point System for tasks and assignments is very easy to follow and use.
My Reading Recommendation
Readers in Residence is a great curriculum for teaching kids in the 4th to 6th grade. I feel like slightly older students who struggle with reading comprehension would benefit as well. The text does not talk down to students or simplify things things to much. Students will grow and learn even if they are already great readers. Riley reads well above this grade level but still benefitted from material presented. I highly recommend Readers in Residence Volume 1 (Sleuth) for those looking to improve your students reading comprehension skills.
Connect with Apologia on Social Media:
Apologia is available to connect with on Facebook, Instagram, Twitter, and Pinterest.
Be sure and click on the banner below to see what the other forty-nine reviewers had to say about their experiences with Readers in Residence.