I am NOT a huge couponer. It seems like every time I try and use a coupon at the store, it's either expired or I picked out the wrong flavor or size. This drives me crazy so I rarely use them. I do shop online quite a bit so I will search for online deals and coupon codes before buying something.
I do shop online quite a bit so I will search for online coupon codes before buying something.
Here is where it gets frustrating. Have you searched for a code online to find out it doesn't work or it expired 4 years ago? That's the problem I have with most coupon code sharing sites. Half the time a code might work but the other half it doesn't.
The Deals
A few months ago I found Dealspotr. It's like the Wikipedia of all deals and coupons. The developers have found a way to basically crowdsource the deals you see. There are over 40,000 members of Dealspotr and edits are made by them through each day. This allows deals and coupons to be updated in real time. It also improves the accuracy of the deals you are seeing. You can see the recent accuracy study if you'd like to learn more.
Over the last year, Dealspotr has saved shoppers over $15 million. When you are being viewed by over 2 million shoppers a month you are bound to save people some money. If you are on Facebook you are familiar with a news feed. When you subscribe to different brands, topics or people you develop a custom daily feed for yourself. I love that I don't have to sift through stores and deals that I don't want to see in order to find the one's I do want to see.
The Money
Dealspotr isn't just about sharing deals though. You can use it to make money for yourself. You earn money by sharing deals. Sharing earns you points that translate into cash.
When I first signed up I was able to make $20 in the first week. I shared some deals, invited some people to join and before I knew it I had a $20 account balance. You can make $5 just by signing up and completing the introductory checklist. Use this link https://dealspotr.com/?join=eamundsen and EAMUNDSEN as a promo code.
Full disclosure yes I will earn a little bit of money if you use this link but that's part of the appeal of this site. Once you sign up then you will get your own link and promo code to share with others. You are passing on the savings and adding a little to your account at the same time.
For the Bloggers
Are you a blogger? Check out these nifty tools like the widget below. You can update it whenever you want or you can set it to pull the newest code from the store you shared. I need to go pick up a piece of fabric today so I decided to share Jo-Ann's with you as an example.
You can also invite other bloggers to be influencers. You need to have a minimum of 1,000 visitors to your blog per month. If that fits your blog use this link and promo code for yourself.
https://dealspotr.com/?join=eamundsen
Promo Code bOhtYrCD. Once you are verified we will both get a bonus.
Or use a banner or button like the one below to invite people to join.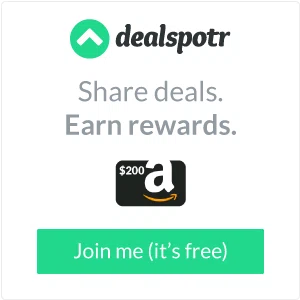 I do want to point out that once you hit the Gold Influencer Level you can convert your points to PayPal cash. If you don't want to receive gift cards for your points you have the option to turn them into cash.
My Thoughts
I wasn't too sure about Dealspotr to start. Over the last few months I've realized how useful it is and it's become my go-to spot for deal and coupon searching. I hope you'll check it out and let me know what you think!