I was recently given to opportunity to review a book from Lamplighter Publishing. The Secret Bridge was written by Amy Le Feuvre in 1899. The book itself is a gorgeous hardcover book. It's covered in a buttery soft material that has been embossed with the picture and gold overlay. It is beautifully bound and will stand up to the test of time in not only the story but the construction of the book itself.
Lamplighter Publishing prides itself on developing "Christlike character one story at a time." The stories that they publish are rare finds from the 17th, 18th and 19th centuries. Spelling, grammar and sentence structure remain true to the time periods the books were written in, unless clarification is needed. Footnotes are used through out the book to either explain what is meant or to reference scripture.
Amy Le Feuvre came from a large family with a grandfather who was a reverend in England. She wrote many stories that contained Biblical principles and at times used the psuedonym Mary Thurston Dodge to publish her work.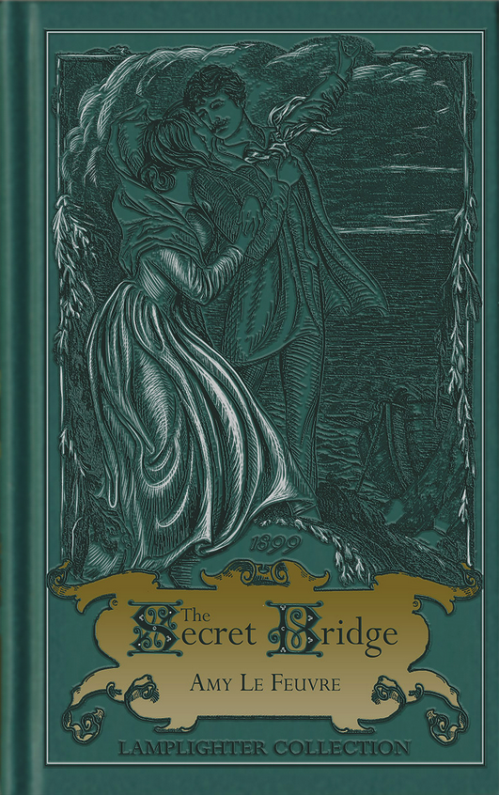 The Secret Bridge Summary
The Secret Bridge is a story about a penniless woman named Bridget Channing. She is aboard a ship during her deep mourning for her father. On the ship she meets Godfrey Bullingham. Once they reach shore they part ways for the time being. Bridge arrives at her uncle's house to find that he has passed away and she is alone in the world. Mr. Bullingham sees her outside her uncle's home and decides to help her find her way.
Bridget and Godfrey are married and Godfrey is almost immediately called back to naval service. Bridget must build a life as a new bride without her husband. She meets people, discovers information about an ancient family feud and feels called to build a relationship with God.
My Thoughts on The Secret Bridge
What a story! I came to really care about Bridget and the challenges she faced. She's a likeable girl who you don't want to see fail in her desire to have love, family and faith. As Bridget embarks on her new life she is introduced to God through one of the other characters. I had a lot of fun reading how Bridget reacted to each new trial and how she would use that challend to grow in her faith.
I had originally planned on Jahnna reading this story but that did not happen. The book is definitely a good fit for teens and mature readers and Jahnna would fall into that category. She is not into romance stories or into classic literature. Her tastes at the moment run to anime, adventure and fantasy stories. That being said, I can see her reading this within the next year or two. The story is not hard to follow or read like some classic literature or regency era books.
I can definitely recommend this book for anyone who is looking for a clean story and fun characters with a little bit of romance thrown in. I enjoyed it and I hope you will also.

You can connect with Lamplighter Publishing on 
Facebook
, Twitter
@lamplighterbook
 and 
Google+
Be sure and click on the banner below to see what the other 79 members of the Homeschool Review Crew had to say about their experience with The Secret Bridge.