I have been waiting to try the high school products from Writing with Sharon Watson for years! Jahnna is finally old enough for the Illuminating Literature: Characters in Crisis and I was thrilled to find we out we were on the review list. I've mentioned before that Jahnna enjoys writing and she has used a curriculum the last two years to write a novel of her own. It's still a work in progress so I was hoping that adding in an additional curriculum would help her see where she could make some improvements to her story.

Illuminating Literature: Characters in Crisis is a curriculum for grades 9-12 and is written with a Christian worldview. I was intrigued by the claim that teens will learn almost
100 literary terms and devices
 by the time they complete this course. I didn't know there were that many to learn! The course is designed to be completed over a traditional school year and can serve as one full high school credit. Split into two semesters containing 38 lessons this is student directed learning, meaning everything is done for you! If your student needs more parental involvement that works also. The coursework also includes suggestions for teaching this in a co-op setting for those who might be interested in that.
A textbook, teacher's guide and free download of the companion Novel Notebook make up the foundation of the class. If the quizzes are taken online, then they are graded for you for free! How nice is that? If your student prefers printed quizzes, then you will want the Quiz and Answer Manual for them. We received the textbook, teacher's guide and the physical copy of the quiz and answer manual. You can check out some free chapter samples, quizzes and grade grids on the course page.
There are books you will need to have available as your student goes through the program. Here is a list of the books required.
You will want to note that it lists the publisher and be sure that your copy is the same. The ISBN numbers are listed to the right of what is shown so you can match them up exactly. Why is that important? Won't any version work? No, it won't! There are passages and page numbers that are mentioned in the student text. Different publishers and even print runs might have different page numbers, and your student won't be able to find the correct passage using the wrong book. You can see at the bottom of the picture below that it talks about page 38 of Frankenstein and a particular paragraph. It will save a lot of frustration and time if you have your own copies or if you can find them at your local library.
Using the same picture you can see that the Frankenstein section is laid out with a four-week plan. You can see that students are encouraged to use the Novel Notebook while they are reading the literature. This is a downloadable pdf, and while you don't have to have it, I recommend using it! At the end of each reading selection, there are activities that can be completed. Jahnna loved Frankenstein, so that's why all the examples are from that text. This picture shows the 13 different activity choices in addition to a compare and contrast assignment between Frankenstein and Adam. That's not something I would have even thought of having Jahnna do so I was thrilled to see opportunities that challenged me to expand my viewpoint as well as hers.
I could go on and on about just the student textbook, but I'm already running long so let's move to the Teacher's Guide. All of the answers are provided for the questions in the student text. There are grading rubrics, so you have an idea of what to look for in your students writing and at the end of each literature selection, there is a way to total all of the points and assign a grade for that section.
Rubrics are an excellent tool for someone who might not be confident in their ability to assign grades for high school credit. I have to say that having taught high school the teacher's guide is phenomenal in guiding you as a parent. It's very detailed and sets a high bar for the type of work your student should be producing at this grade level. The same can be said of the tests and quizzes provided. Sharon Watson expects your student to learn a lot during this course and if you follow it, they will! We used the paper quizzes but I wanted to check out the online option, and we might just have to switch over to that. First off, everything is graded for you. Nice! Second, they are password protected. The passwords are provided in the student text, and they are different for each one. I like that because it keeps the students involved and accountable. They can't lose them unless they lose their book.
Our Sharon Watson Experience
Jahnna saw the book list for this course and was immediately drawn to Frankenstein. I don't think she realized that she would be introduced to different types of writing styles, so I was thrilled that she enjoyed it as much as she did. Using the curriculum, she has been working with, and Illuminating Literature did exactly what I hoped it would do. Jahnna was able to see different techniques and see how she could include them in her writing toolbox. Jahnna is excited to continue learning with Characters in Crisis, and I can't think of a better recommendation then having a high school student willingly add an additional curriculum to their studies because they enjoyed it so much.
My Sharon Watson Experience
I have learned so much just flipping through the lessons and having discussions with Jahnna about what she is learning. The content and depth of the questions concerning the literature are amazing! I have been challenged in some of my thoughts while reading different sections with Jahnna and pondering topics like the creation of "designer pets and children." I did not expect to explore science, ethics, art, and history using this course, yet we did! I was highly impressed with the breadth of topics and subject matter.
If you have a high school student, co-op or are looking ahead to high school curriculum, please consider using Illuminating Literature: Characters in Crisis. It's affordable, and the quality far exceeds the price it's being provided for. I am so impressed with the program that we will be using Illuminating Literature: When Worlds Collide after Jahnna finishes Characters in Crisis.
You can connect with Writing with Sharon Watson on Facebook and Pinterest.
This is the last review of the 2017 Homeschool Review Crew review year. You will want to see what the other 39 reviewers had to say about finishing our review year with such a fantastic product! Click on the banner below to see what they had to say about it.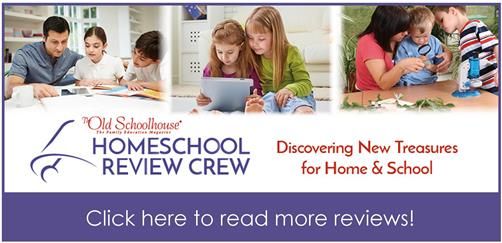 SaveSave