We have been blessed to use The Critical Thinking Co.™  in the past. When I saw some of the products available for this review I was sad my kids weren't younger so we could try out the software. Luckily Riley fit right into the perfect range for the Language Smarts™ Level E workbook. It is for fourth grade and that's where she is at. Speaking of those younger products for those of you with Preschool age kids be sure and check out the Reading, Writing, and Arithmetic Before Kindergarten!™. There are 5 apps available that will help out before you start more formal schooling.
Language Smarts™ Level E
  is 400 pages of complete learning in one book. It is designed to be used as either a textbook or a complete workbook. You won't need another language arts book if you use this with your student. The Critical Thinking Co. has arranged lessons so that while they are learning reading, writing, grammar and punctuation, the student is also learning to develop critical thinking skills.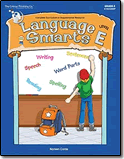 The pages are colorful and bright. The directions are easy to follow and there are plenty of charts and examples for kids who learn visually. Each of the directions is outlined with yellow. Definitions for new concepts are circled in red while examples are highlighted at the top of the pages in green. Each question has plenty of space for answers to be written.
The book is huge and yet easy to navigate. The Table of Contents lays everything out for you. If you'd like to focus only on Parts of Speech you simply go to pages 93-155. Each part of speech is then broken down farther with the corresponding page numbers. There is no lesson preparation when using this as a workbook.  The answers are also provided at the back of the book. This is nice if you are grammar challenged like myself!
Our Critical Thinking Experience
I had planned on buying several programs for Riley this year from The Critical Thinking Co. I've been wanting to use the Editor in Chief and the Writing Detective program's for awhile. I actually put off buying her language arts curriculum until I was able to see what was available for this review. At first I was a little disappointed because it's a workbook. Once I read the book description and saw that both of those programs were included I was completely on board! If I'm completely honest I couldn't wait for the review list to come out to see if I was on it. That's how excited I was!
I wasn't disappointed once the book came either. This is a hefty book. The pages are good quality and the binding is holding up well to the type of abuse only a fourth grader can provide! While this book can be used as a textbook, I've used it more as a workbook. Riley has her regular lessons to do and then we are supplementing with this as we go.
This kid likes her worksheets! She's doing 5 a day by her own choice. I was going to go with 2 but when I ask her how many she wants to do it's always 5. Work on kiddo, work on! So far Riley has only had trouble with one page and it involved rhyming with words she doesn't use very often. I looked in the back on one that I was stumped on and then we worked together to complete that page. Out of the roughly sixty pages Riley has completed that's pretty impressive.
My Critical Thinking Thoughts
I highly recommend this book for fourth grade. There are earlier grades available and they look to be laid out in the same way. I have found the subjects to be both comprehensive but fun. I like that Riley is confident in her work but that it can still be slightly challenging for her. I've found that many workbooks try and progress in difficulty over the year and sometimes that can cause frustration as you move on in the workbook. I have chosen pages all over  in each section and they seem to be consistent in what is required. The change in what is expected is gradual enough that the student doesn't notice it and become discouraged. If you are looking for quality curriculum you can't go wrong with the Language Smarts™ Level E.
Connect with The Critical Thinking Co.
With over 200 titles in reading, writing, math, science and social studies you will want to see all that The Critical Thinking Co.™ has to offer.
Connect with The Critical Thinking Co.™ on  Facebook, Google+ and Pinterest.
Be sure and click on the banner below to learn about the other products reviewed by the Homeschool Review Crew.