LearnBop
 has a fantastic new math program for homeschoolers. 
LearnBop for Families
 is online and is a great math help for those struggling with math in grades 3 through 12. The family plan is $19.95 a month for up to 4 students or $14.95 for a single student. The interactive program goes step by step through individual concepts and provides over 11,000 lessons that are instantly accessible upon signup.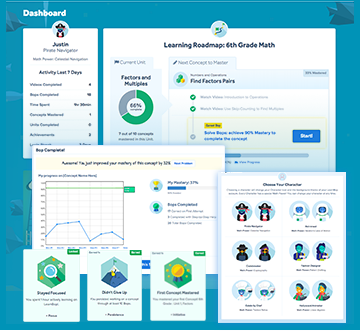 We received the family plan version of LearnBop to use with Riley and Jahnna. I figured Riley could use it to catch up on some areas she was having difficulty with at the end of last year. I wanted Jahnna to check out a different program and see if she could expand on some of the skills that she is struggling with. Jahnna has liked video based programs in the past and I hoped she would like this one as well.
The program starts out with the students customizing the avatars on their profiles. Riley chose to be a Codebreaker. The parent is able to place them in one of the available levels and to follow their progress from the parent dashboard. The student accounts show a roadmap of their progress
As the student works through various concepts they have checkmarks that show how far they have come and how much farther they have to go.
This picture was taken when Riley first started out. She hadn't completed any of the 13 units that make up the third grade. The first unit was 52% complete when I took this screen shot and she had not done any of the tests. As she worked through them it updated in real time and allowed her to see how much farther she had to go.
I like that you can break down each unit even farther. This shot shows the concept being worked on, when it was worked on, how much time was spent on the activity and the mastery level. Riley and I were both able to see exactly what she was working on and how she was doing.
LearnBop is incredibly supportive of the students. Each concept that is mastered gets an achievement award. There are several videos to be watched for each concept. You don't have to watch the videos but you earn more awards if you do watch them. You can see in the middle column that Riley had watched 2 videos on the concept she was working on. I called her out on it when she said she had watched all of them. Whoops! Silly girl thought she could pull one over on me!
 In case you have any questions there is a great FAQ section that is going to get better as time goes on.
Our Math Help Experience
I'm impressed with LearnBop! It's been a really good program for Riley. She's completed most of the third grade program and is doing well even though it's summer time. I thought she would throw a fit about working on "school" but she hasn't. Riley wants to see how far she can get into 4th grade before the school year officially starts. I originally thought this would be a good program for some math help. I'm happy that it's become something she really enjoys working on.
Jahnna has been a different story. I'm going to chalk it up to turning 13 and all the teenage attitude that has been thrown around this last month. I'm going to leave it that for her as far as the progress has gone but I can say that when she works on the program she does well. She's not a big fan of the videos but she does like seeing how much farther she has to go before she can stop working! Typical teenager right? I'm actually confident that once she willingly buckles down and starts working she will enjoy it. Her complaints about the videos seem to be more along the lines of "it's summer time" then anything to do with the actual videos. Goofy girl, I never told her she had to watch over all the videos! She had heard me ask Riley to watch them for the unit Riley had been working on and assumed I meant it for her also. Like I said, typical attitude for this age.
For $14.95 or $19.95 it is completely worth it for the adaptability alone. To be able to pinpoint areas that need more work and to see the skills building upon each other is amazing. I love that access to all the grade levels is available so your child can go as far as they want at their own speed.
Be sure and click on the banner below to see what the other reviewers had to say about their families experience with 
LearnBop for Families
.