What homeschool science curriculum are you using this year? We are so blessed to have received the Exploring Creation with Astronomy, 2nd Edition from Apologia Educational Ministries. I've used several Apologia products over the years and I have never been disappointed with any of them. 

We were sent the following pieces to review: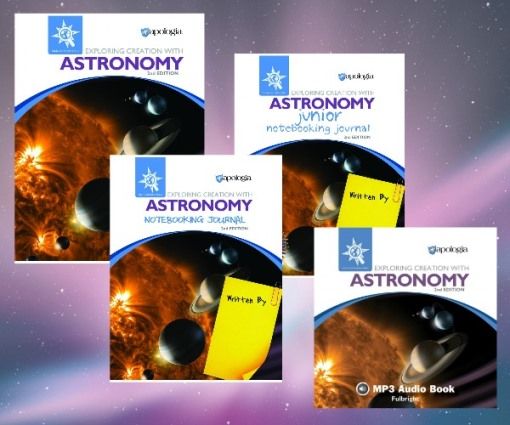 I chose to use this curriculum with Riley as it's meant for students in grades kindergarten to sixth grade. She's in 4th grade this year so she was able to use the Notebooking Journal instead of the Jr. version.
Textbook
The Student Text is a hardbound book full of color pictures. I love that Apologia books don't feel like a text book when you are reading them. It's more like you are talking with the author. Before I go any further I want to say that this is a Christian company and there is a huge emphasis on the Bible, and God is frequently mentioned in the text. I love it but I know some don't so I always like to clarify for those who can only use or want to use secular resources.
Each chapter is clearly marked both with a page covering the topic of the lesson and then at the top of each lesson page. Riley tends to get lost in books when they aren't clearly marked not because she can't find it but because she gets interested in what ever she is looking at. This makes it easy to redirect her to the appropriate section.
The text is broken up with color pictures, quotes and sections providing "think about this" thoughts. There are several activities in each chapter to build upon what was learned. The first chapter contains activities like Create your Own Mnemonic and Build a Model Solar System.
Notebooking Journal
A soft covered ring bound book that is HUGE! There are 336 total color pages, filled with additional activities. Some of Riley's favorites include crossword puzzles and cutting out the minibooks. There is even an opportunity to write a play about Uranus. Each lesson is broken down into daily assignments in the front of the notebook.
For instance, Lesson 7 on Mars The second daily assignment reads:
Moons

Martian Orbit

Martian Rotation

Mars Minibook
The sections in green correspond to the sections to read in the textbook and the blue section is an activity to work on for the day. Everything works together to make it easy for students to follow and work independently on the textbook and know when they need adult help for an activity. The notebooks are designed to be used as a journal of what the students learn. It's a great way to build a portfolio and keep track over the years how far they come in science.
Jr Notebook Journal
We did not use the Jr Notebook because Riley is in 4th grade. Many of the activities are the same or simplified for younger students and there are multiple coloring pages included. If you have different age levels students working from the same textbook it would be very easy to use both at the same time. The journals follow the same page numbers which is another great feature for a family learning group.
MP3 Audio Book
I listened to some of the Audio Book and really enjoyed it. Riley loves music but is not an auditory learner. She felt like reading along with the audio version was distracting and that she gained more by reading it out loud to me than having it read to her.
For those who are younger and not reading fluently or those who struggle with reading this is a fantastic resource! I also feel like this is something that could even be listened to in the car if you need to travel while keeping up with school work. I cannot praise Apologia enough for developing this resource for those who don't learn in a traditional manner. It is amazing to me as a special needs mom how many companies don't think outside the box so when I find one that does I go out of my way to let others know about it even more than I normally do!
Science Kit and Field Trip Journal
We were not sent the Science Kit to review so I don't know much about it other than what is listed on the website. There are 63 activities in the Textbook and this kit contains the materials for all of those activities except for the food items. That way if there are any allergy issues you can adapt the food to your needs. The Field Trip Journal I do know about because we reviewed it last year. You can read my review if you would like to know more. These are both optional items and not required to use the curriculum.
My Apologia Homeschool Science Curriculum Thoughts
I said it in the beginning and I'll say it again, I love Apologia's homeschool science curriculum! Jahnna and Riley have both learned a lot with this review. Jahnna hasn't even used the textbook or the journal but she's heard Riley reading out loud and working on projects. When Riley finds something she thinks is interesting she has to come tell each one of us about it. She has showed Colby several of the notebook pages and pictures in the book. He rolls his eyes at her because he is an older brother but he lights up when she gets so excited to show him something new. Riley even offered to help him color the pages in the junior journal because he likes to color when he sees her coloring. You know you have a quality product when it starts off with one person and extends to involve everyone.
As a parent I appreciate the effort that went into making this such a user friendly product. Everything is laid out clearly, directions are to the point and easy to follow and the required materials are not impossible to find. As a former teacher, I appreciate the details of the textbook. For an elementary level product this goes surprisingly in depth into the subject matter. Even though there are a lot of details and information it never feels heavy or overwhelming. You can't help but learn by just reading the textbook.
One last thought is anyone else still irritated that Pluto isn't a planet? I don't know why that bugs me so much. Actually, I didn't even realize it did bug me until I looked at the dwarf planet section. Oh well, things change all the time, I just wondered if anyone else thought that way or if it's just me. If you do, leave me a comment so I don't feel quite so lonely!
You can connect with Apologia on Facebook Twitter @apologiaworld, Pinterest, and Instagram
Be sure and click on the link below to see what the other reviewers had to say about their experiences with Apologia's Exploring Creation with Astronomy, 2nd Edition