We pulled Riley out of public school this summer. It was something we'd thought about for awhile but she was in a good school so we left her because she liked it. Then summer happened and we pulled her last minute. I had no lesson plans. Nothing! I was so excited when I learned about Educeri Lesson Subscription Service from Educeri …….  Educeri a division of DataWORKS.
I figured that with over 1,000 lessons in Math, English Language Arts, Science, History, Art, PE, and Music there should be something I could use with Riley until I figured out what we were doing.  The lessons are searchable by subject and grade level from K to 12th grade, so it's easy to find exactly what you are looking for. You can also search by concept if you have a specific one in mind.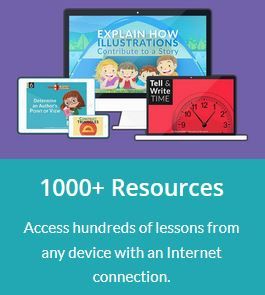 Some of the lesson plans have pdf's that can be downloaded or the lessons can be completed on the computer. I think it's important to point out here that this is geared for busy teachers. It's not a homeschooling product per se. It's obviously adaptable to homeschooling and I'll tell you how we used it in a minute. The lessons are all Common Core aligned so they can be used in a classroom setting.
The initial lesson covers look engaging and are bright and colorful. It's easy to see what grade level the lesson plan is for in the upper left corner. One you choose a lesson there is a short description of what is covered. It clearly identifies which operating systems it will work with and has a space to leave a review of the lesson in the comment section.
After you open up the lesson the plan is completely laid out for you with suggested questions to ask the class and notes for the teacher. The problems add in the answers when you click on the advance arrow at the bottom of the page.
In the upper right corner of the lesson are options to use a pen, highlighter or eraser. This would be useful if you want a student to write in the answer on the computer before clicking the arrow to move forward.
Our Lesson Plan Experience
I turned Riley loose on the Educeri website before I had a chance to really dive into it. That was a big mistake on my part. I think I thought this was more of an interactive site for individual students and not for a classroom. Riley was a bit confused so I sat down with her to figure it out. She had the search part figured out easy and had already pulled up the fourth grade lessons. I asked Riley to choose something that looked interesting and she went with one of the math lessons. I don't remember which one we started with but that's okay because they all follow a similar pattern.
We opened it up and read the first page. She said "See when I click the arrow it answers it for me! That's kind of lame to give me the answers!" Leave it to a kid to give you honest feed back! I realized what was happening and that I would either need to print off the pdf's or sit with her and work through each lesson together. We did that for quite a few of the subjects, alternating between printing and working together until she finally asked if we could stop using it. Riley loves to learn either hands on or through videos and this just wasn't interactive enough for her.
My Thoughts
I think Educeri has some fantastic qualities. Everything is easy to understand and use. I could have used this when I was teaching high school! In fact I might have stuck with it if I'd had a resource like this for days I needed a sub or had gotten behind on my lesson planning. For $7 a month it really would be a life saver for beginning or overwhelmed teachers. I can also see how it would be beneficial for families new to homeschooling who are still in the school at home phase.
For our family it wasn't a great fit but I can see it being a great fit for kids who learn visually or who like to work independently. If you have a kiddo who will take the time to answer the questions either orally or write them down before moving forward it works well. If you have a super busy child who can't be bothered to slow down it gets a little dicey!
I have a feeling I will use Educeri as more of a supplemental type program. If there is something Riley needs a little bit more work on, I will see if there is a lesson that fits her needs.
You can sign up for a 30 day free trial to see if Educeri is a good fit for you. This is definitely a program where I would encourage you to do that if you are thinking of using the program.
Be sure and click on the banner below to see what the other members of the Homeschool Review Crew had to say about their experience with the 
Educeri Lesson Subscription Service
.