Riley has loved math up until the last few months. John and I went to her parent teacher conference and found out she was having trouble with her 6's. She hadn't mentioned anything to us about it. Luckily I had just received an email from The Trigger Memory Co. with the Times Tales ($19.95) download information for the program.

The program itself is video based and consists of two portions. Times Tales focuses on 3's, 4's, 6's, 7's, 8's, and 9's specifically it teaches these facts 3×6, 3×7, 3×8, 3×9, 4×6, 4×7, 4×8, 4×9, 6×6, 6×7, 6×8, 6×9, 7×7, 7×8, 7×9, 8×8, 8×9, 9×9. It uses pictures and stories to help students learn the harder facts that a lot of students have trouble with.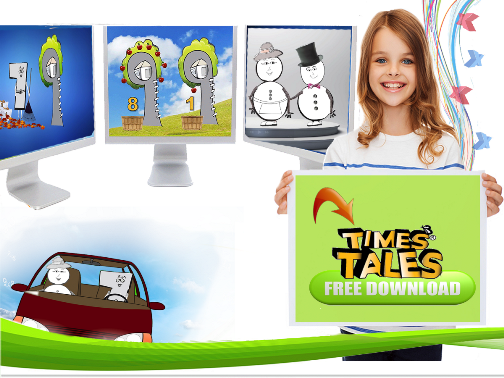 There are 5 files to download and they are big files! Once you have them downloaded you start by watching the first video. It's about thirty minutes long. I had Riley sit down and watch it while I was making dinner. I figured that way I'd be able to listen while she watched and I could make sure she was understanding what she was watching. I have to admit that I thought it was pretty corny! It's funny but in a cheesy way, which means Riley thought it was hysterical! She was giggling during the entire video! I wasn't sure she would remember any of it because she was laughing so much.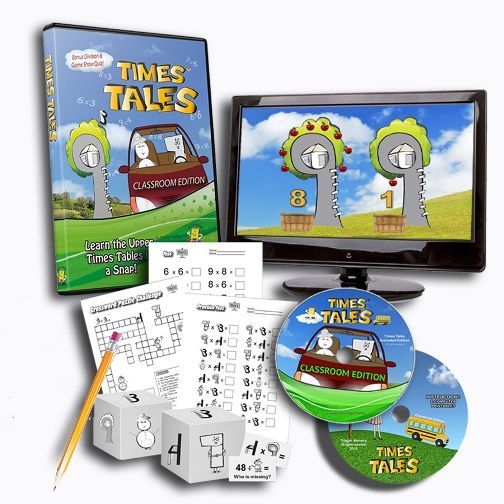 The next day she came home from school and announced she had passed off her sixes like it was no big deal! Wait…what? She casually said over her shoulder as she went to put her backpack away that she just remembered the story and it was easy. Um, okay then! Her teacher said she'd been stuck on 6's for a month and she watches half of the videos and she passes them off? How is that even possible when the first video didn't cover all of the six facts? I had some questions for her when she came back upstairs a few minutes later. Turns out she knew most of the sixes before watching the video and it was 3 x 6 and 4 x 6 that she couldn't remember.
The program suggests taking at least a week off after viewing the first video. This is where you turn to the pdf downloads. There are flashcards to practice with as well as some fun puzzles and worksheets to reinforce the stories they were taught in the video. Riley zipped through them and was ready to move on after the week was up. Riley enjoyed the second video as much as the first one. She wasn't as excited about the flashcards the second time around but was able to see the value in completing all of it when she was able to pass off all the other numbers.
I was skeptical at first so I'm happy to say that I was proven wrong. Times Tales works and it works well. It's been several weeks since Riley completed the program and she still remembers the stories. I wish that I had this when Jahnna was struggling with multiplication. It would have made things so much easier. I also love that this program is super affordable and can be used by anyone. You don't have to homeschool to use this so if you have a child that is struggling you are going to want to check this out!
You can connect with The Trigger Memory Co. on Facebook.
See what the other members of The Review Crew had to say about their experience with Times Tales by clicking on the banner below.