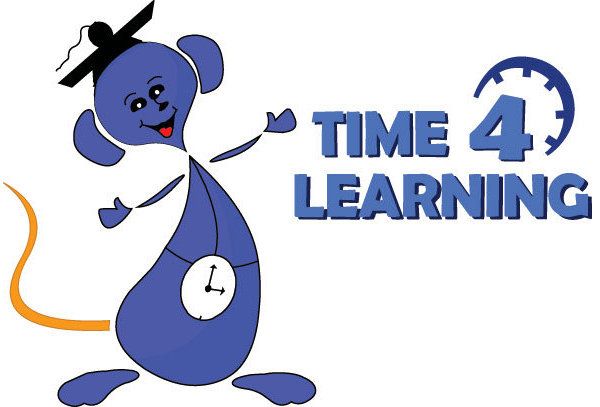 Time4Learning is a program that our family has used several times with Jahnna. I'd been thinking about signing up for it again when the opportunity for this review came up. Time4Learning is an online program developed for kids. There is curriculum available for preK to 8th and also high school.  It's completely student paced but it also allows parents to customize the program to their students strengths or weaknesses. The program can be used as an after school program, summer program or even as a homeschool program which is what we use it for.
When you sign up for Time4Learning you select a grade for your student. Jahnna is technically in 5th grade if you go by the school system but she's a bit behind in math (darn multiplication!) so I was able to place her in the 4th grade math. For Language Arts I could place her in 6th grade if I wanted to. She reads far above her grade level but I don't want her to miss out on grammar and things like that so I stuck with the 5th grade placement.
The sign up process is very simple and straight forward. Parents have an account and then the student has an account under their parent. Parents can track log in time, activities worked on, tests and quizzes taken and scores received. You can put a time limit on your student playing on the "playground" which is kind of a reward center with lots of free games and activities they can play that reinforce learning. For homeschool families that need to track things for their state requirements this is a great way to keep it all in one place.
Time4Learning is all web based so you can access it from any computer anytime. Jahnna has really enjoyed using the program at night when Riley and Colby are asleep. She also likes to get up early in the morning, curl up on the couch downstairs and work while it's quiet. Why she won't turn the lights on is another story but this is what it looked like this morning.
I like that there are lesson plans available for parents. You can see what they are going to study before they even start. Here is a chart with the number of activities available for each grade level.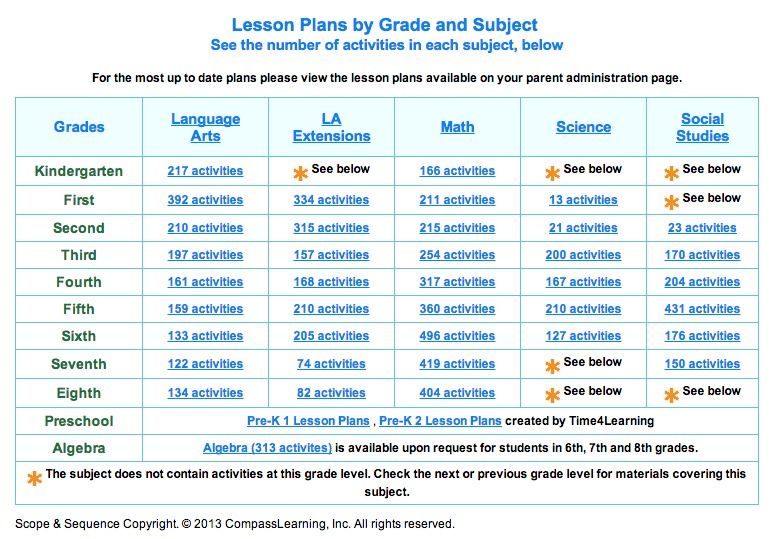 This isn't a great shot of cell. I hope it's more clear on your end but this was as clear as I could get it so I could see it. I like the details available for science, the videos provided are fun and engaging. Some of the characters are a bit annoying and rude but for us it's not a big deal. Jahnna thinks they are funny and honestly if your kids watch any kind of cartoons available daily on t.v. then it's no worse than that.

Over the last few years I've let Jahnna kind of pick and choose the things she wants to learn about. Doing this has caused a few gaps in her education and this year I felt like we needed to focus on closing those gaps. It was for this reason that I was going to sign her back up for Time4Learning again. I like how each subject is broken down into topics. The topics are then broken down into smaller section and the smaller sections are broken down into a daily lesson. It's self paced so if the student doesn't understand something they can go over it again until they understand the concept. Tests and quizzes are provided to assess if the student has really learned the subject matter.
I turned Jahnna loose and let her pick where to begin. Of course she skipped right over the math section. Without even asking her about it I was able to tell her that she hadn't spent any time on math and that if she didn't start working on it there would be some consequences. She wanted to know how I knew that and I was able to play off the mom knows everything line pretty well. After 4 weeks she was able to start using the new art program. I haven't had a chance to look at that portion yet with everything else that has been going on but so far Jahnna says she likes it.
Time4Learning is so flexible I don't have a problem recommending it for anyone. I've encouraged my sister to sign my niece up for it. She's so dang smart that her teacher had to go get the next grade level of work from another classroom for her to do in class. I showed my sister how she could use this program for a couple of weeks to track my niece's progress in all subjects and then if she wanted to could print it off and take it to the school to push for her being advanced a grade. This would also work well in reverse. If your child is struggling in an area you would be able to find out where the trouble is and focus more on that topic. This would also allow them to get some additional help and hopefully be able to come up to grade level with some extra reinforcement.
Time4Learning is available for $19.95 a month for one student. If you want to enroll more than one you receive a $5 discount per child so each additional student would be $14.95 a month. High School curriculum is available for $30 a month.
If you've used Time4Learning before what did you think of it? I'd love to know!